32 Tips for Choosing Your Perfect Wedding Venue
Choosing the right wedding venue is one of the first (and most important) decisions you will make as an engaged couple – it will affect which suppliers you choose, your budget, your decor, and perhaps even your attire. Let's go through the process together.
Before you start the search for the right venue
1. Try to estimate how many people you want to invite to your big day,as not all venues can accommodate all wedding sizes. Almost every party venue in Stockholm will have a minimum and maximum number of guests.
2. Sit down with your fiancé and think about how much you are willing to spend. Take the time to find out what the current prices are at your desired wedding venue.
Deciding how much you can afford to spend will help you avoid the heartache that can occur if you fall in love with a venue that is well out of your price range – you don't want to spend more than 50% of your total wedding budget on the venue.
3. Check out wedding planners' and wedding photographers' blogs to see real wedding photos from the venues you're interested in. Since they are not staged, you get a much better idea of what things can (and really) look like. It can be especially useful if you cannot visit the venue during the season the wedding is planned.
Trip Advisor can also be useful when looking for hotel rooms and reading reviews.
4. Choose your wedding date. "Wedding dates can be significant for various reasons, some couples choose to get married on the same date they met, their parents' or grandparents' anniversary or similar.
If you can be flexible with your date and choose a month during the low season, you will often be able to secure the venue of your dreams at a lower price. For example, you would probably have to pay less for a wedding on a Friday in February than you would for a Saturday in June. The time of year, day of the week, and the length of your wedding will affect your negotiating position. wedding på en fredag i februari än vad ni skulle för en lördag i juni. Tid på året, veckodag och längden på ert bröllop kommer att påverka ert förhandlingsläge
5. Call around to check availability for your date before you go to see the venue in person,as dates at popular venues can fill up quickly. The wedding venue should (as a rule) be close to the church if you are not having the actual ceremony on site.
6. 6. The wedding venue will play a big role in shaping the atmosphere of your wedding, so it's important to have a vision of how you want to portray your big day.If you have many guests coming from other cities and countries, you might want to show off the beautiful countryside in Sweden. Or perhaps a historic place in central Stockholm.
7. 7. Choose your colors or theme after you have chosen your venue. "Often the bride wants a different color theme than that of the venue they have chosen (ie chair cushions, pillar colors). Consider how the colors and theme complement your space for a cohesive look.
8. A barn wedding attracts brides and grooms who love the rustic.Barns provide that rustic feel while offering modern details and facilities. There is a good selection of wedding barns in the Stockholm area.
9. An all-inclusive hotel is the perfect backdrop for a classic fairytale wedding. If you're a traditionalist looking for something a little different, consider a castle or historic home, which has the special touches you crave with a little more character.
10. 10. A wedding venue with a sumptuous natural landscape, such as a Swedish lake, provides a stunning backdrop while reducing the cost of decor details. Nothing beats mother nature!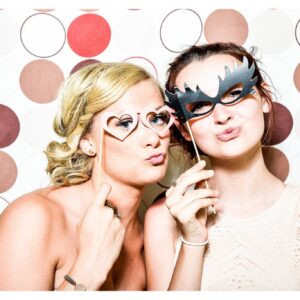 11. For a small, intimate affair,consider renting a community center. That saves you a lot of money.
12. Couples with a modern and hipster character are attracted to converted old industrial warehouses. I DJDJ'd at such a wedding last summer and the atmosphere was amazing!
13. Use the venue to tell your love story. Couples often choose wedding venues that have sentimental value to them, for example, it may be close to the place where the groom proposed.
14. There is also a shift to weekend celebration as opposed to a single day.Couples have started to choose to take over more remote premises where their loved ones can stay and celebrate a whole weekend. Usually, this might be at a wedding abroad or somewhere up north. Not the cheapest option but a good one, especially if a large part of your guest list is traveling from abroad.
15. Email or call potential wedding venues to schedule official walkthroughs with representatives who can answer all of your questions (be prepared with a pen or your phone to take notes).
If possible, try to arrange a visit to the venue when it is being prepared for a wedding. This way you can judge the size of your reception area when all the tables, DJDJ or band equipment, and other necessary components are in place. It is best not to invite the whole family, as the choice of venue is very personal, and it sets the tone for your whole wedding.
16. "Don't book the first venue you see. You might want to overdo it, but trust me. Choose at least three premises that suit your budget and style. Then write down the advantages and disadvantages of each.
17. Think about all the different spaces you need (ceremony, dinner and dance). Think about how to use the rooms and areas for different purposes – there should be a seamless flow from one part to the next.
If you have the ceremony in the wedding venue, you will save several venue fees, as well as transportation from one place to another. As a DJ, I recommend having the dance floor near the bar or seating. Keep people together and not divided!
18. Take photos and videos with your phone of the things you like and dislike about each venue. Be sure to tag the correct location so you don't mix up the photos in your photo library.
19. Visit every venue with an open mind. Couples often end up booking a venue that looked so-so online because the photos didn't do the venue justice, or they fall for something they didn't expect in the first place.
20. Ask for referrals. Many venues have good relationships with previous clients who would be more than happy to share their experiences. Ask about the service – was anyone difficult to work with? Or did they go out of their way to make sure the event was a success? How was the food? Was there anything they wished they had done differently?
21. Pay particular attention to the lighting. If a venue is too dark, it can make it difficult for your photographer to capture all the details you worked so hard to plan. You'll also need to find out if the venue you're considering offers additional lighting services, such as overhead lighting, and intelligent lighting, or if you need to hire an outside supplier.
The entertainment should have its own lighting, so that is an important thing to consider.
Map out the logistics
22. Consider how the guests will get from point A to point B. Transportation and parking will vary depending on whether you are getting married in the city of Stockholm or in the countryside, whether the ceremony and reception will take place in the same place, and whether the guests are local or if it is a destination wedding.
23. Since the Swedish weather can be unpredictable, it is important to have a contingency plan for outdoor weddings. Before you book, ask what the plan is and go over it with them. Make sure you like the spare spaces in case of bad weather.
If you don't, you may want to consider a different venue or hire a planner to help with the planning. When it comes to installing my DJ equipment, I always offer the option of installing both indoors and outdoors. DJ-utrustning, erbjuder jag alltid möjligheten att installera både inomhus och utomhus.
Most of your guests probably want to endure the nice Swedish summer and not be stuck indoors!
24. Some premises offer an on-site coordinator to assist you when you arrive at the property. Vanligtvis hjälper de dig att planera ditt bröllop och lösa eventuella problem som kan uppstå. Eftersom de inte erbjuder hela utbudet av tjänster som en extern bröllopsplanerare skulle ge, är det viktigt att bestämma vad de är ansvariga för och om du behöver anställa extra hjälp utöver dem.
25. Determine if there are any restrictions on suppliers. "Preferred" suppliers are usually companies that are considered reliable by the people in charge of the premises you have chosen and who often work there and know the premises well. "Some venues have strict policies for suppliers and may be denied the use of the planner you wanted to work with or the photographer you have already booked.
Other companies may use their list to suggest companies they enjoy working with but ultimately let the couples hire other providers. Have an open dialogue with the people in charge at your premises and go one step further to find out why they are "preferred". Is it because the supplier has experience working at that particular venue, or did they pay to be on the list purely as marketing?
For example, a barn can use a catering company to handle everything from booking to delivery of service on the wedding day.
26. If the venue offers in-house catering, find out if you can do a tasting before the wedding. Consider bringing your parents or close friends to get their opinions and keep your guests' tastes in mind in addition to your personal favorites. You must also make the venue's catering aware of any dietary restrictions. Beverage preferences can also come into play: Are you and your guests fine wine experts, or is beer more to your taste? There's no point in spending big bucks at the bar if you're not going to drink fine whiskey and vodka. A tip: if you can afford to offer an open bar, do it - it makes a big difference to the wedding party!
27. Ask if you will have the room to yourselves. It is important to know how many events will be going on simultaneously and how much interaction there will be between your guests and theirs (if any). The privacy factor differs for each premises; Some venues may offer separate restrooms and parking spaces for guests from different events, while others have the rooms close together, so you might hear someone else's music being pumped from the room next door. If you are getting married outdoors in a public space, such as a nice Swedish park or city center, be aware that strangers may stop and give you their well wishes or look into the background of your wedding photos. Tourists around Stockholm always like to linger. Stockholm gillar alltid att dröja kvar.
28. Venue packages vary widely, including how long your party can last and any overtime charges. If the wedding has to end at 1 am due to noise restrictions but you want to dance until 3 am, you may want to keep the festivities going with an after-party elsewhere. If so, be sure to arrange transportation for the entire party (unless you're already in town). Be sure to pre-book your destinations.
29. Your dates are not officially reserved until you sign your contract and in most cases also make a deposit.
30. In negotiations, it is easier to work with replacement than to subtract from the foundation. For example, if you don't want the expensive roses included in the venue's package, perhaps you can ask the venue managers if they can remove the roses and add something else instead. "The most important thing is to remember to be kind and considerate when you ask to negotiate something. A grateful heart will pay off in many ways"
31. Don't be pressured into signing right away. If a venue has your desired date available, but you are not quite ready to book, ask if they can place a soft booking or give you a courtesy call if someone else shows interest in the same date. Take a few more days to talk to your fiance and make sure it fits your wishes.
32. Some premises may require a deposit when signing the booking.
Professional DJ in Stockholm
Meet DJ Carl, also known as London DJ, a Master of Beats and a Maestro of Events! With a passion for music that knows no bounds, DJ Carl has built a reputation as a dynamic and skilled professional DJ. With years of experience orchestrating both corporate and private events firsthand, DJ Carl brings a unique blend of creativity, rhythm, and precision to every occasion.
Having spun tracks in many places both domestically and abroad, and impressing audiences with an uncanny ability to gauge the atmosphere, DJ Carl is not just a DJ; he is also a curator of unforgettable experiences. From intimate private gatherings and weddings to high-energy corporate events, DJ Carl possesses the necessary talent to transform every occasion into a symphony of celebration.
But DJ Carl's expertise doesn't end at the turntables. With a wealth of knowledge in event organization and planning, he understands the intricate details that make each event shine.