Christmas Party Ideas for the Workplace
Now that December is here, there's one thing every employee looks forward to... the end-of-year meeting. Nope. It's the holiday party season!
So if you're in charge of organizing the office Christmas party, or maybe a holiday lunch for your team, but you're tired of the usual office Christmas parties with dull decorations and forced sentimentality?
Fear not! We're here to help you shake things up and create an unforgettable experience at the workplace Christmas party.
With these unique ideas, creative themes, engaging games, and memorable entertainment, your holiday event will be the talk of the office for years to come.
Quick Summary
Spread the holiday cheer with these creative themes for the office Christmas party!

Turn your workplace Christmas party into a memorable evening with exciting games, live music, comedy performances, and interactive acts!

Plan a fantastic event by setting a budget and choosing the right venue with festive decorations and ambiance.
Festive Activities for Office Christmas Parties
Whether you're booking an entire venue, private rental, or attending a shared Christmas party, these engaging and festive activities can make all the difference at your Christmas party.
From themed dress codes and photo booths to team-building games with a holiday twist, these ideas will entertain your colleagues and foster a sense of camaraderie and teamwork throughout the evening.
Festive Activities for Office Christmas Parties
Photo booth
Having a photo booth at your office Christmas party can be a fun and entertaining feature that gets everyone laughing and creating memories together. Here, you and your colleagues can pose in front of various scenarios with a range of fun props and accessories. It's a perfect activity to break the ice and get the party atmosphere going. You can engage in games and challenge each other to create the most creative and fun pictures to document your office Christmas party. Don't forget to use your creative ideas to make each photo unique and memorable. A photo booth is a fun way to gather all colleagues and give them the opportunity to let loose and create fun moments together during the party. So be sure to include a photo booth at your office Christmas party and create memories that you'll laugh about even after the party is over.
| | |
| --- | --- |
| | A photo booth gives you the opportunity to capture moments and create fun and memorable pictures that you can share with each other both during and after the office Christmas party. Put on your Christmas-themed accessories and props to create a festive atmosphere in the photos. You can take group photos with all your colleagues together or act out different scenes to create fun and relaxed pictures. It's an activity that suits everyone and allows you to be creative and playful together. Make sure to include a photo booth at your office Christmas party to create fun moments and memories that will keep you entertained long after the party. |
Wine Tasting & Mixology
Wine tasting and mixology is a perfect activity to include in your company's Christmas party. It's an entertaining and relaxed experience that allows participants to explore different wines while learning how to create their own cocktails. With an expert guiding you through a tasting journey, you'll have the chance to discover new favorites and learn more about the art of wine. You can also learn various techniques and tricks for crafting exciting and flavorful drinks.
| | |
| --- | --- |
| | A wine-tasting and mixology activity gives you the opportunity to unwind and enjoy delicious beverages while socializing with your colleagues. It's an excellent opportunity to get to know each other better and build stronger team bonds. Additionally, you'll have the chance to experiment and get creative with different flavors and combinations. So be sure to include Wine Tasting and mixology in your Christmas party for a memorable and educational experience. |
Team Building Games
Many companies are looking for ways to strengthen their team and promote camaraderie in the workplace. One of the most popular ways to do this is by organizing team-building games. In these games, employees have the opportunity to work together, enhance communication, and build trust. Games like paintball or obstacle courses can be challenging and fun ways to experience teamwork. By immersing themselves in these activities, the team can feel energized and united, which can improve the work environment and productivity.
| | |
| --- | --- |
| In addition to physical activities, creative and mental games can also serve as a way to promote collaboration. Here, you can try team building through training games or strategy games. By solving problems together and challenging each other, employees can build strong relationships while developing creative thinking and problem-solving skills. These games also provide an opportunity to explore and challenge different perspectives, which can enhance the team's ability to collaborate and work towards common goals. | |
Creative Ideas for the Office Christmas Party
Don't let the office Christmas party be a routine event – add a creative touch to create lasting memories. Set up a colorful and interactive photo booth where colleagues can pose and capture their most festive moments. With a variety of props and background options, everyone can relax and have fun in front of the camera. This will not only generate happy faces and laughter but also provide an opportunity to document and share charming photos from the party.
In addition to the photo booth, another engaging activity could be wine tasting and mixology. Let your colleagues learn about different types of wines and flavors while experimenting with creating their own signature drink. Arrange for a professional sommelier or bartender to guide the group through this culinary journey, offering opportunities for interesting discussions and collaboration among colleagues. Blending creativity with flavors and scents will undoubtedly provide a unique and memorable experience for everyone at the Christmas party.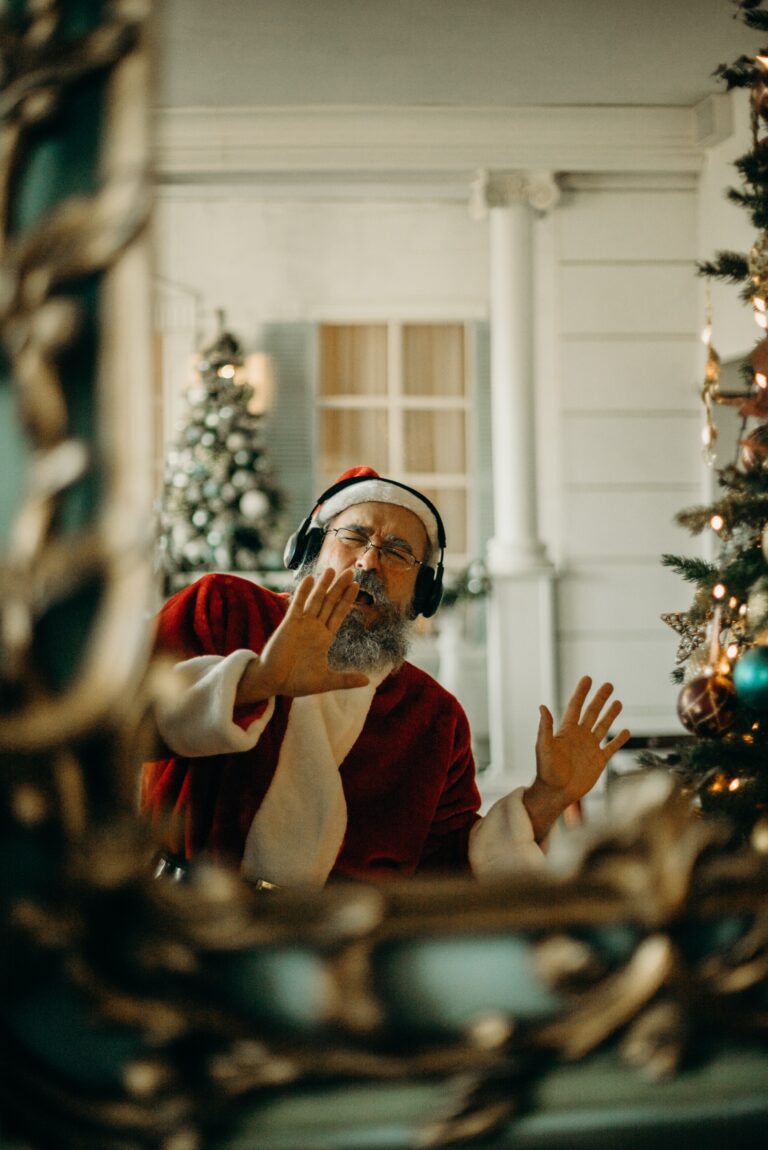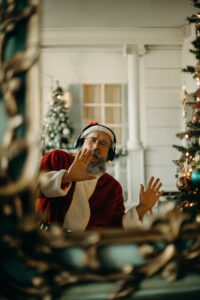 Festive Fun – Santa's Workshop
Festive Fun – Santa's Workshop offers the perfect Christmas activity for both adults and children. Here, you have the chance to step into Santa's workshop and feel like real helpful elves. There are different stations where you can participate in exciting and fun activities inspired by the magic of Christmas.
| | |
| --- | --- |
| For example, you can try making your own Christmas gifts and decorations, or why not decorate gingerbread cookies and create your own unique artworks? At Santa's Workshop, there's also the opportunity to meet Santa himself and take a photo together. It's a fantastic opportunity to preserve the memory and have a moment with Santa for both young and old. So why not bring the whole family and experience the festive and fun atmosphere at Santa's Workshop this year! | |
Secret Santa
One of the most popular and exciting activities during Christmas is Secret Santa. This is a tradition where each person at the party selects another person to give a gift to, without revealing their identity. By being the mysterious Secret Santa, you can spread joy and surprises to colleagues and friends.
​
| | |
| --- | --- |
| | Being a Secret Santa brings a sense of excitement and anticipation for both the giver and the receiver of the gift. It's a fun challenge to choose the perfect gift, based on casual clues or insider information you have about the person. Plus, it creates a nice sense of community as everyone tries to figure out who their Secret Santa is. So why not surprise your colleagues at work or your friends during the Christmas party with a Secret Santa activity that will create memories and laughter long after the holiday season is over? |
Paint and Sip Experience
Do you love painting while enjoying a delightful drink? Then the Paint and Sip Experience is perfect for you! Give yourself a creative break and experience art in a whole new way. You'll get to paint a beautiful canvas with the guidance of an experienced artist who will lead you through the entire process. While letting your creative side flow, you can relax and enjoy a delightful wine tasting. Take a few sips of different wines and let the flavors and colors inspire your artwork. A perfect combination of art and enjoyment!
| | |
| --- | --- |
| | The Paint and Sip Experience is more than just a regular painting class. It's a chance for you to unleash your inner artist and create something beautiful while enjoying fine wines. You'll learn various techniques and get tips and tricks from the artist who will be with you throughout the experience. Take a sip of your favorite drink and let the creativity flow! While taking breaks to admire your artwork, you can also sip on your drink and discuss your thoughts and ideas with the other participants. A fun and relaxed atmosphere makes this a perfect activity for both individuals and groups. So why not treat yourself to a creative and relaxing experience with Paint and Sip? |
Candle Making Experience
In the Candle Making Experience, you have the opportunity to explore the traditional art of crafting your own candles. By melting and shaping candle wax, you can express your creativity and create unique candles to illuminate your home or give as gifts. This is a relaxing and enjoyable activity that is perfect for both individuals and groups.
| | |
| --- | --- |
| | During the experience, you'll learn various techniques and receive tips and tricks from experienced instructors. You can experiment with different shapes, colors, and scents to create candles that suit your personal taste and style. It's an opportunity to unleash your imagination while enjoying the serene and peaceful atmosphere of the candle-making workshop. Come and explore the exciting world of candle making and create unique candles that will spread both light and joy in your home. |
Decorate Gingerbread Houses
Decorating gingerbread houses is a beloved tradition around Christmas in many Swedish homes. Children and adults gather to bring their fantasies to life and create small works of art with sugar and candy. It's an activity that promotes creativity and togetherness, where everyone can contribute their own unique touch. With a pre-built gingerbread house base and a generous amount of frosting and decorations, you can let your imagination run wild and create a magical Christmas experience for the eyes and taste buds.
| | |
| --- | --- |
| When it comes to decorating gingerbread houses, there's no limit to what you can do. Many draw inspiration from traditional Christmas decorations, creating small snow-covered roofs, windows with colorful curtains, and sweet gingerbread figures guarding the entrance. Others choose to create more extravagant constructions, like lively snowmen skating on a sugar-glazed "lake" or a gingerbread castle with towers and spires. With a little imagination and a lot of candy, you can turn your gingerbread house into a unique and memorable part of Christmas. | |
Christmas Bauble-Making Experience
Christmas is a time of joy and togetherness, and what could be better than creating your own Christmas baubles with your colleagues at work? Making Christmas baubles can be an entertaining and engaging activity that's perfect for a Christmas party. It gives everyone a chance to be creative while strengthening bonds between colleagues.
| | |
| --- | --- |
| | Participating in Christmas bauble making is an activity that not only brings holiday spirit but also sparks joy and enthusiasm in all participants. You can use various materials, like glitter, colored paper, and sequins, to create unique and personalized Christmas baubles. It's a fun and relaxed moment where you can challenge yourself and have fun together. So the next time you're planning a Christmas party at work, consider including a "Christmas Bauble Making Experience" and let the creativity flow! |
Engaging Parlor Games
Are you planning a company Christmas party and want to make it extra fun? Engaging parlor games are a fantastic way to get everyone mingling and having a great time together. These types of games typically involve team competitions where participants are challenged with various tasks or questions. It can range from charades to music quizzes or even innovative games tailored to the celebration of Christmas. The best thing about engaging parlor games is that they create a relaxed atmosphere, and help people get to know each other better, all while spreading joy and laughter during the Christmas party.
| | |
| --- | --- |
| | When planning engaging parlor games for your Christmas party, it's important to choose games that suit your group and create a positive and inclusive atmosphere. Keep the games simple and easy to understand so that everyone can participate and have fun. You can also customize the games to fit the theme of the Christmas party by including Christmas-related questions or tasks. Remember to award a prize to the winning team or distribute small gifts to all participants to make the experience even more memorable. With engaging parlor games at your company Christmas party, you can be sure to create an entertaining and memorable evening for everyone. |
Festive Trivia Quiz
A Festive Trivia Quiz is fantastic entertainment for all ages during the Christmas season. It's a popular activity that can be played both indoors and outdoors. It's a perfect way to engage and entertain the whole family or friends during the festive season. With questions covering a range of topics, from history to pop culture, there's sure to be something for everyone to test their knowledge and create a delightful competitive spirit.
Test your colleagues' knowledge of holiday facts and traditions with a festive trivia quiz!

This friendly competition encourages conversation and strengthens bonds among colleagues as they answer questions about everything from:

The origin of Christmas trees

The highest-grossing Christmas movie of all time

The History of Santa Claus

Popular holiday traditions around the world

Famous holiday songs and carols
Gift Wrapping Relay
Introduce a gift wrapping relay to your event for a fun and competitive way to test the wrapping skills of your teams. The race kicks off with each team receiving a box of assorted items to wrap. Armed with rolls of colorful paper, ribbons, and tape, participants race against the clock to neatly wrap their assigned gifts. The air fills with excitement as team members take turns wrapping and passing the parcels, competing against other teams to be the first to complete the task. Laughter and cheers erupt as the final gifts are skillfully wrapped, showcasing each team's creativity and dexterity. This activity not only fosters a sense of teamwork and camaraderie but also allows participants to display their gift-wrapping prowess.
| | |
| --- | --- |
| | While the gift wrapping relay primarily focuses on teamwork and speed, it also provides an opportunity for teams to demonstrate their ability to work under pressure. As the clock ticks down, the pressure intensifies, and the wrapping frenzy becomes a true test of time management and coordination. Each team member must be aware of their role and communicate effectively with their teammates to ensure a seamless transition between wrapping and passing. This fast-paced activity not only challenges participants' ability to juggle multiple tasks but also adds an element of excitement and thrill to the festive atmosphere. The exhilarating nature of the gift wrapping relay makes it a popular choice for holiday gatherings and corporate events, bringing people together for an entertaining and engaging experience. |
Christmas Pictionary
Christmas Pictionary is a fun and engaging game that's perfect for entertaining at your holiday party. It's a variation of the classic party game Pictionary, where players draw different words and phrases, and the other players try to guess what it is. In Christmas Pictionary, all the words and phrases should be related to Christmas, adding an extra festive and mood-setting element to the game.
After a few glasses of Baileys, let everyone channel their inner artist with a round of Christmas Pictionary! Players take turns drawing Christmas-themed words and phrases while their teammates try to guess what it is within a minute. Some examples of words and phrases you can use are:

Gingerbread House

Candy Cane

Snowman

Christmas Tree

Santa Claus

This entertaining activity will have everyone laughing and bonding over their artistic skills (or lack thereof).
Memorable Corporate Holiday Entertainment
Live Music
Few things can elevate the atmosphere at a party more than a live music experience. With a live music group on-site, the party instantly comes to life with energy. Whether it's a holiday party with colleagues at work or an evening with friends, live music can truly set the tone for a memorable night. In addition to contributing to a festive atmosphere, a live music group can also interact with the audience and get games and dancing going on the dance floor. So whether you prefer a live band, an acoustic duo, or a DJ with live guitar, live music is always a surefire way to make your party unforgettable.
| | |
| --- | --- |
| | Another advantage of live music is the ability to customize the music to fit the theme of your party. At a Christmas party, a live band can play the classic Christmas songs with a twist or create a festive atmosphere with Christmas songs in a jazz style. At work, you can surprise your colleagues with a live music experience that gives them a break from their daily work and allows them to relax and have fun. There's something special about seeing and hearing real musicians perform – it provides a sense of intimacy and commitment that can't be replicated through recordings. So if you want to elevate the party atmosphere and create memorable moments, consider booking live music for your next event. |
Whimsical Holiday Party – Comedians and Drag Hosts
Christmas is a time for joy, laughter, and togetherness, and what better way to celebrate than with a whimsical holiday party for your company? At such a special occasion, it's important to make a strong impression and ensure everyone has a memorable time together. A great idea is to hire comedians and drag hosts to set the mood and create an atmosphere filled with happy laughter and entertainment.
| | |
| --- | --- |
| | Comedians are experts at making people smile and laugh, which is exactly what you need to make the Christmas party a success. These professional comedians and storytellers can tailor their material to your audience and your company's culture to ensure everyone has a fantastic time. With funny jokes and humorous anecdotes, the comedians can spread joy and create a relaxed and festive atmosphere. Drag hosts, on the other hand, can add an extra touch of glamour and glitter to the party. Their extravagant performances and fabulous looks will truly impress the guests and make the Christmas party a memorable event. julfesten till en minnesvärd händelse. |
Hire a DJ for the Office
There are many benefits to hiring a DJ for the office for your next corporate party or event. A DJ can not only create a lively and energetic atmosphere but also customize the music experience to fit your specific theme or preferences. By choosing the right songs and mixing the music professionally, a DJ can get everyone to let loose and dance together.
| | |
| --- | --- |
| En annan fördel med att hyra en DJ till kontoret är att det kan bidra till att stärka teamets samarbetsförmåga och skapa en positiv arbetsmiljö. Musiken kan bryta isen och få alla att känna sig mer avslappnade och involverade. Dessutom kan en DJ skapa en naiv och rolig stämning som gör att alla kan släppa loss och glömma vardagens stress och arbetsuppgifter för en stund. Så varför inte ta din nästa företagsevenemang till en ny nivå genom att hyra en DJ och skapa minnesvärda stunder för hela kontoret? | |
Interactive Performances
Performances that go beyond just watching and listening are a trend that's becoming increasingly popular at events around the world. Interactive performances give the audience the opportunity to actively participate in the experience and create lasting memories. One form of interactivity that has become particularly prominent is digital interactions, where technology is used to create a dynamic and engaging experience.
| | |
| --- | --- |
| One example of an interactive performance is the use of voice-controlled technologies. By using voice commands, the audience can become part of the performance itself by controlling lights, sound, and visual effects. This provides a sense of empowerment and interactivity that makes the event more personal and memorable. Other examples of interactivity include game- or competition-like elements, where the audience can participate and win prizes by actively engaging with the performance. | |
By including interactive performances at your event, you can create a unique and memorable experience for your guests. The interactivity that these performances offer provides a sense of participation and engagement that will stand out from traditional events. So explore the possibilities and let the audience be part of creating magic at your next event with interactive performances!
Christmas Party Themes for the Office
Creative Party Themes
Ultimately, a unique and immersive theme can make all the difference in creating a memorable party.
Gone are the days of generic holiday decorations and repetitive activities. Instead, let your imagination run wild and transform your next office party into:
A Mysterious Masquerade Ball (perfect for formal wear)

A Classy 1920s Soiree (simple party attire)

Festive Dress-Up Party (including an ugly Christmas sweater theme)

Santa's Workshop (for the more creative)
Each theme offers a fresh and exciting experience that will leave a lasting impression on your colleagues.
Masquerade Ball
A Christmas party at the company can be a fun and relaxing event for all employees. An opportunity to unwind, socialize, and have fun together outside the workplace. A popular theme for such parties is a masquerade ball, where everyone gets to dress up as their favorite characters or imaginative creatures. It's a festive and lively atmosphere where everyone can be creative and showcase their inner joy. With exciting costumes, intriguing plots, and mysterious masks, the masquerade ball becomes a party to remember.
| | |
| --- | --- |
| | At a masquerade ball, one can expect an evening full of surprises and laughter. All employees have the opportunity to showcase their creativity by choosing unique costumes that reflect their personalities and interests. It's a chance to be someone else for an evening and immerse oneself in a world of festivities and joy. With dancing, music, and playful activities, a magical atmosphere is created where everyone can let loose and create memories together. The masquerade ball becomes a perfect end to the year and an opportunity for the company to show its appreciation for its employees. |
The Roaring Twenties
The Roaring Twenties was a time of change and upheaval, when society began to question and challenge traditional norms. One of the most significant events that characterized this decade was the women's movement, which fought for equality and women's right to self-determination. Through demonstrations and protests, the women's movement succeeded in bringing attention to and challenging the objectifying and oppressive structures that permeated society.
| | |
| --- | --- |
| During the Roaring Twenties, art was also a platform for challenging conventions. The modernist movement, with its bold and innovative expressions, rebelled against the academic and traditional within art. Artists like Picasso and Dalí questioned traditional ideas of form and content, creating works that shook the art world. Through their experimental and often provocative expressions, they opened up new possibilities and paved the way for the expansion and diversification of art. | |
Delightful Food and Beverage Ideas
Festive Cocktails
When it comes to festive cocktails, it's important to think outside the box and offer something fun and unique for your guests. Why not surprise them with some playful drinks that are perfect for your office Christmas party? Games and mingling activities can add an extra dimension to the party and give guests the opportunity to relax and have fun together. So why not create a couple of drinks with a twist and give guests the chance to try something new and exciting?
| | |
| --- | --- |
| | One idea is to create a "Santa Hunt" cocktail, where you mix gingerbread vodka with apple cider and a splash of lime juice. This creates a delightful taste experience reminiscent of the classic flavors of Christmas. To make it even more fun, you can decorate the glasses with small Santa hats and let guests hunt for small candies or Santas hidden in the drinks. This will definitely elicit laughter and spread joy among your colleagues at work. |
Themed Buffets
Christmas is a time for joy and celebration, and a company Christmas party is the perfect opportunity to create memories and spread holiday cheer. What could be better than enhancing the party with a themed buffet? Choosing a theme adds an extra touch of fun and engagement. Whether it's a traditional Christmas buffet with classic dishes like ham and sausages, or a more innovative and international variation, a themed buffet will add a special touch to the company's Christmas party and give employees something to remember.
| | |
| --- | --- |
| One of the most popular themes for a company Christmas party is "Christmas Around the World." By letting the food represent the traditional Christmas specialties of different countries, you can take your employees on a culinary journey around the globe. From Italian panettone and German stollen to American gingerbread cookies and Swedish saffron buns, guests can taste the holiday delights from various cultures. This theme not only brings variation and excitement to the party but also a sense of community and diversity. So why not surprise your employees and give them a themed buffet that will have them looking forward to next year's company Christmas party? | |
Dessert Stations
One of the highlights of any party is the moment when you get to explore various delicacies at the dessert station. It's a chance to conclude the meal in a sweet way and satisfy all taste buds with different options. At the dessert station, you can expect everything from chocolate truffles and macarons to fruit skewers and meringue desserts. It's a place where you can enjoy small portions of different sweets and truly treat yourself to something extra special.
| | |
| --- | --- |
| | A smart idea is to include something for everyone at the dessert station. For the chocolate lovers, you can have a chocolate fountain where you can dip fresh fruits and marshmallows. For those who prefer something lighter, offer a refreshing fruit and berry salad with a cooling scoop of vanilla ice cream. And for those who want a combination of sweet and tangy, serve a creamy and delicious lemon pannacotta with a kiwi salsa on the side. By offering different flavors and textures, the dessert station can become a real hit at the party that no one will be able to resist. |
Tips for Planning the Office Christmas Party
Setting a Budget
Setting a budget for the office Christmas party can be a challenge, but it's an important part of ensuring that everyone can enjoy the celebration without breaking the bank. First and foremost, consider the number of participants and what you want to include in the party. Is it just a simple gathering, or do you want more extravagant entertainment and games? Also, think about food and drinks – will it be a buffet or a sit-down dinner? By having a clear picture of what you want to achieve, you can better plan and allocate your resources.
| | |
| --- | --- |
| Once you've clarified your goals and needs, it's time to look at costs. Make a list of everything you need, including decorations, food, drinks, and any entertainment. Then, search for different prices and offers to see what fits best within your budget. Also, consider including a buffer for unexpected expenses. By being realistic with your budget and making necessary adjustments, you can host a fantastic office Christmas party that will have everyone laughing and enjoying joyful games. | |
Choosing the Perfect Christmas Party Venue
Choosing the perfect Christmas party venue for your company can be an exciting task. There are many factors to consider to ensure that the Christmas party becomes a memorable and successful event. First and foremost, it's important to think about the size of the venue and whether it can accommodate all your guests. You don't want anyone to feel cramped in tight spaces or for the venue to feel too empty.
| | |
| --- | --- |
| | Another important factor to consider is the location of the venue. Make sure it's easily accessible for all guests, whether they're arriving by car or public transport. Getting lost in a deep forest far away from civilization might be romantic, but it can also make it difficult for your colleagues to find their way to the party. So, make sure to keep the venue in a central location with plenty of parking options or good transportation. |
Christmas Celebration – Decorations and Atmosphere
Decorations are an important part of setting the Christmas mood and can truly make a difference in the celebration. By using traditional colors like red and green, you can easily create a cozy and festive atmosphere. Remember to choose decorations that suit your own style and taste. It can range from beautiful Christmas ornaments to stars and candles. A tip is to use real candles to create a warm and inviting feeling. Don't forget that outdoor decorations can also make a big difference. An Advent candlestick in the window or wreaths on the door can really uplift the entire house and spread Christmas joy to passersby.
| | |
| --- | --- |
| To enhance the atmosphere, you can also create a special playlist with Christmas music. Choose classic Christmas songs that get you in the right holiday spirit and that go well with the Christmas dinner or gift-giving. Another idea is to create a cozy atmosphere by lighting a fire or Advent candles. The scent of burning wood or Christmas treats quickly spreads and gives an extra touch of Christmas. If possible, you can also try to use natural materials like pine branches and cones in the decorations. It gives a rustic and traditional feel that fits perfectly into Swedish Christmas celebrations. | |
Summary
Now that Christmas is approaching, it's time to start planning for the Christmas party. To avoid financial chaos, it's important to set a budget for the party. By determining how much you want to spend on food, drinks, decorations, and entertainment, you can avoid overspending. Choosing the perfect Christmas party venue is also crucial. A location that can accommodate all guests and provides the right atmosphere is essential for creating a memorable Christmas party.
When it comes to Christmas celebrations, it's not just about food and drinks, but also about creating the right atmosphere and decorations. Using colors like red, green, and gold can add a festive touch to your home. Lighting candles and hanging glittering decorations are also ways to create a warm and inviting atmosphere. So make sure not to forget to set the mood and decorate your home in a way that suits your personal style and preferences.
Vad är Pynta Pepparkakshus?
Pynta Pepparkakshus är en aktivitet där deltagarna får dekorera pepparkakshus med olika godis och icing.
Hur fungerar Pynta Pepparkakshus?
Deltagarna får ett färdigt pepparkakshus och olika material att dekorera med. Sedan kan de använda sin kreativitet för att skapa ett vackert och unikt pepparkakshus.
Vad ingår i Pynta Pepparkakshus-paketet?
Pynta Pepparkakshus-paketet inkluderar färdiga pepparkakshus, olika dekorationsmaterial och verktyg för att dekorera.
Behöver jag ha några förkunskaper för att delta i Pynta Pepparkakshus?
Nej, det krävs inga förkunskaper för att delta i Pynta Pepparkakshus. Det är en aktivitet som passar alla åldrar och färdighetsnivåer.
Finns det olika teman att välja mellan för Pynta Pepparkakshus?
Ja, det finns olika teman att välja mellan för Pynta Pepparkakshus. Du kan välja mellan traditionella jul-teman eller kanske något mer unikt och personligt.
Kan man äta pepparkakshusen efter att de är dekorerade?
Ja, efter att pepparkakshusen är dekorerade kan de ätas. Det är en del av upplevelsen att få smaka på sitt eget kreativa verk.
Kan man ta med egna dekorationer till Pynta Pepparkakshus?
Ja, du är välkommen att ta med egna dekorationer till Pynta Pepparkakshus om du önskar göra ditt pepparkakshus ännu mer personligt.
Hur lång tid tar det att dekorera ett pepparkakshus?
Tiden för att dekorera ett pepparkakshus varierar beroende på deltagarna och deras kreativitet. Det kan ta allt från 30 minuter till flera timmar.
Kan man köpa färdiga pepparkakshus istället för att bygga dem själv?
Ja, om du inte vill bygga pepparkakshus själv kan du köpa färdiga pepparkakshus att dekorera istället.
Finns det några priser för de bästa dekorationerna?
Ja, det kan finnas priser för de bästa dekorationerna. Det kan vara en rolig tävling där deltagarna kan vinna olika priser baserat på deras kreativitet och dekorationsteknik.
Vilka typer av musik erbjuder Live Musik på Kreativa Festteman?
Live Musik på Kreativa Festteman erbjuder ett brett spektrum av musikstilar, inklusive pop, rock, jazz, blues och mycket mer.
Vilka typer av komiker och dragvärdar kan man förvänta sig på Knasig Julfest?
På Knasig Julfest kan man förvänta sig komiker och dragvärdar med olika stilar och humoristiska inslag. Från stand-up komiker till karaktärskomiker och underhållande dragartister, det finns något för alla att njuta av.
Hur kan man hyra en DJ till kontoret på Kreativa Festteman?
För att hyra en DJ till kontoret på Kreativa Festteman, behöver man bara kontakta evenemangsarrangören och ange datumet och önskemål om musikstil. De kommer att hjälpa till att arrangera en professionell DJ som passar in i företagets behov och önskemål.
Vad innebär interaktiva framträdanden på Kreativa Festteman?
Interaktiva framträdanden på Kreativa Festteman innebär att artisterna interagerar med publiken på olika sätt under sina framträdanden. Det kan inkludera allt från att bjuda in deltagare på scenen, skapa interaktiva spel eller aktiviteter, eller engagera publiken genom att få dem att sjunga eller dansa tillsammans. Det är en rolig och engagerande upplevelse för alla.
Vilka kreativa festteman erbjuder ni?
Vi erbjuder en mängd olika kreativa festteman, inklusive 80-talsfest, Hollywood-glamour, karneval, masquerade, beach party, och mycket mer. Oavsett vilket tema du väljer kan vi hjälpa till att skapa en oförglömlig festupplevelse för dig och dina gäster.
What is the article "The Breaking 20s" about?
The article "De Brytande 20-talet" is about various events and festivities taking place during winter, including "Vintersaga" and "Maskeradbal."
What is "Maskeradbal"?
"Maskeradbal" is a party where participants dress up and wear masks or costumes to conceal their identities.
When does "Maskeradbal" take place?
The date of "Maskeradbal" can vary, but it usually takes place during the winter months and may be part of the "Vintersaga" event.
Is it mandatory to wear a mask at "Maskeradbalen"?
No, it is not mandatory to wear a mask at "Maskeradbalen," but it is a fun and traditional part of the celebration to dress up and wear a mask or costume.
Are there any age limits for participating in "Vintersaga" and "Maskeradbalen"?
Age limits may vary depending on the event. It's best to check with the organizer for more information on age restrictions and any age-appropriate activities.
Can tickets be purchased for "Vintersaga" and "Maskeradbalen"?
Yes, to participate in "Vintersaga" and "Maskeradbalen," it may be necessary to purchase tickets. More information on where to buy tickets will be available on the organizer's website.
How can I organize a festive cocktail?
To organize a festive cocktail, you can mix your favorite alcohol with mixers and garnishes to create a unique and flavorful drink. Ensure you have a wide range of beverages available for different tastes and preferences.
What is a themed buffet?
A themed buffet is a food service where the food and drinks are tailored to a specific theme. It can range from a Mexican buffet with tacos and margaritas to an Italian buffet with pasta and wine. Themed buffets create a festive atmosphere and allow guests to try different dishes and flavors.
What is a dessert station?
A dessert station is a beautifully presented area where various desserts and sweets are served. It can include everything from a chocolate fountain and an ice cream bar to a cookie and pastry buffet. A dessert station is perfect for ending a meal in a sweet and festive way, allowing guests to choose their favorite desserts.
What are some typical cocktails I can include in my party?
There are many different cocktails you can include in your party. Some popular choices include Mojitos, Cosmopolitans, Margaritas, Pina Coladas, and Martinis. You can also consider creating your own signature cocktails that fit your theme or taste preferences.
What is the best way to decorate a themed buffet?
The best way to decorate a themed buffet is to use props and decorations related to the theme. For example, you can use colorful flags and sombreros for a Mexican buffet or use Italian flags and wine glasses for an Italian buffet. You can also decorate with fresh flowers and candles to create a festive atmosphere.
How can I make my dessert station appealing to guests?
To make your dessert station appealing to guests, you can present the desserts in an enticing manner. Use colorful plates and bowls, decorate with edible flowers or sprinkles, and ensure there is clear signage for each dessert. You can also include different options for guests with various dietary preferences, such as gluten-free or vegan alternatives.
Can I include non-alcoholic options in my festive cocktail menu?
Absolutely! It's important to include non-alcoholic options in your festive cocktail menu to cater to guests who do not drink alcohol or prefer to stay sober. You can create exciting mocktails using various juices, soft drinks, and fruit pieces to provide guests with an equally festive experience without alcohol.
How can I plan a themed buffet that accommodates different dietary restrictions and allergies?
To plan a themed buffet that accommodates different dietary restrictions and allergies, it's important to include options for various dietary preferences. Make sure to include vegetarian, vegan, gluten-free, or lactose-free alternatives. Clear signage can also be helpful in informing guests about ingredients and any allergens in the dishes.
How can I set a budget for my Christmas celebration?
To set a budget for your Christmas celebration, you can start by making a list of all potential expenses, such as food, gifts, decorations, and venue rental. Then, allocate a sum of money to each category and try to stay within that budget.
How can I choose the perfect Christmas party venue?
To choose the perfect Christmas party venue, consider the number of guests you plan to invite and the type of atmosphere you want to create. Also, consider factors like location, accessibility, cost, and any additional services offered. Visit different venues and compare to find the one that best suits your needs.
How can I create a Christmas atmosphere and decorations at my Christmas celebration?
To create a Christmas atmosphere and decorations at your Christmas celebration, you can use traditional Christmas decorations like trees, Christmas lights, wreaths, and ornaments. You can also light candles and spread Christmas scents by using scented candles or sprays with fragrances like cinnamon or gingerbread.
What is a summary of the article?
The article provides advice and tips for planning and hosting a successful Christmas celebration. It discusses the importance of setting a budget, choosing the right party venue, creating Christmas atmosphere, and decorating appropriately. By following these guidelines, you can create a memorable and successful Christmas event.
Professional DJ in Stockholm
Meet DJ Carl, also known as London DJ, a Master of Beats and a Maestro of Events! With a passion for music that knows no bounds, DJ Carl has built a reputation as a dynamic and skilled professional DJ. With years of experience orchestrating both corporate and private events firsthand, DJ Carl brings a unique blend of creativity, rhythm, and precision to every occasion.
Having spun tracks in many places both domestically and abroad, and impressing audiences with an uncanny ability to gauge the atmosphere, DJ Carl is not just a DJ; he is also a curator of unforgettable experiences. From intimate private gatherings and weddings to high-energy corporate events, DJ Carl possesses the necessary talent to transform every occasion into a symphony of celebration.
But DJ Carl's expertise doesn't end at the turntables. With a wealth of knowledge in event organization and planning, he understands the intricate details that make each event shine.