Hiring a DJ – How Much Does it Cost?
The question of how much a DJ costs is a common one and largely depends on how long you want to hire the DJ and how long your event lasts. This price can vary depending on the size and duration of your party, as well as the services you are looking for them to provide. Since this can change from one event to another, and from one person to the next, there is no fixed number. But that's also why we're writing this article; to give you a better idea of what to expect when you want to hire a DJ for your next wedding, birthday party, or corporate event. 
How much does a DJ cost for a wedding? 
According to some guides, the national average cost of a DJ is between 6,500 SEK – 12,000 SEK. However, to accurately calculate what it will cost for your wedding, you need to know that DJ costs can vary depending on their experience, popularity, the equipment they will bring, the tasks they will perform, and how long they will be needed. The following advice is specifically focused on weddings, but can also be applied to any other type of event. 
Experience 
A DJ's experience has a lot to do with what they charge, and it makes sense because the more experienced a DJ is, the better they will be at their job. They will naturally be able to handle unexpected situations and surprises as they are veterans in the industry. DJ Carl kommer DJs utan riktig träning och som egentligen precis har börjat att ta ut någonstans mellan 2000-3500 kronor. Dessa DJs kan vara bra för en stramare budget. För DJs som har lite mer erfarenhet och har anlitats några gånger, kan du förvänta dig priser runt 4500-7500 kr. Slutligen kommer DJ: erna högst upp i sortimentet att ha haft mest erfarenhet eller är överlägset mest populära. Dessa proffs kan spendera 20+ timmar i veckan på att se till att din 5-timmars bröllopsmottagning är perfekt på din stora dag. De är välutbildade och mycket erfarna. Dessa DJs kommer att kosta allt från 7000 kr – 15 000 kr eller kanske ännu mer. Vissa DJs kan vara mer kunniga i en nisch över en annan, till exempel en bröllops-DJ kontra en företags-DJ kontra en barns födelsedags-DJ. 
Duration 
Another significant consideration when trying to calculate how much a DJ costs will be the time you need them for your wedding or other event. A typical time a DJ expects to be on-site is anywhere between 3 to 6 hours, especially for a wedding. These hours, known as sets,, may need to be extended when you receive your estimates if you need breaks between times the DJ plays music or transitions. For example, if you know you'll have speeches in the middle of the set and allocate 1 hour for your loved ones to share their stories, be sure to let your DJ know. DJ This allows them to work out a plan with you of what's happening and when, as well as provide you with a proper quote for their time so there are no surprises when you receive the final bill. 
Job duties

 
What will your DJ do? Some couples have a clear idea of what they want their DJ to do and at what specific times and this type of information is helpful for a professional DJ. It helps them determine when to play certain songs or when they need to be available, as well as when to turn off the music so you/they can take over the microphone. However, some clients have no idea what a DJ really does at their wedding, so they don't know what to expect.
Typically, a trained DJ will know how to emcee, which means they will engage with your guests and help transition the audience from one part of your wedding to another. Part of their job is to ensure your guests are having a good time, either by getting them on the dance floor or helping you guide them to the right places at the right time. (And because there are different DJs, there are a variety of personalities, which will be important for you when hiring your wedding DJ.) bröllops-DJ.) 
So when you talk to a DJ you're considering hiring, be sure to discuss with them the tasks they are comfortable performing and any services they may not offer. Involve your DJ in your song requests. In many cases, it can be beneficial if your DJ can be involved in the scheduling process to help you find good transition points from one part of the evening/day to the next.
Equipment
Some DJs own their equipment, while others may need to use the venue or rent additional gear. This can affect the overall cost, especially if specialized equipment is required, like a smoke machine or wireless microphones. Ensuring your DJ has the necessary tools for a successful event is vital, so be transparent about your expectations and requirements.
Särskilda önskemål
If you need a bilingual DJ or want them to coordinate with your master of ceremonies, make sure to discuss these preferences during the hiring process. Additionally, if you have specific songs in mind, check if the DJ already has them in their library or if they may need to purchase them to accommodate your requests.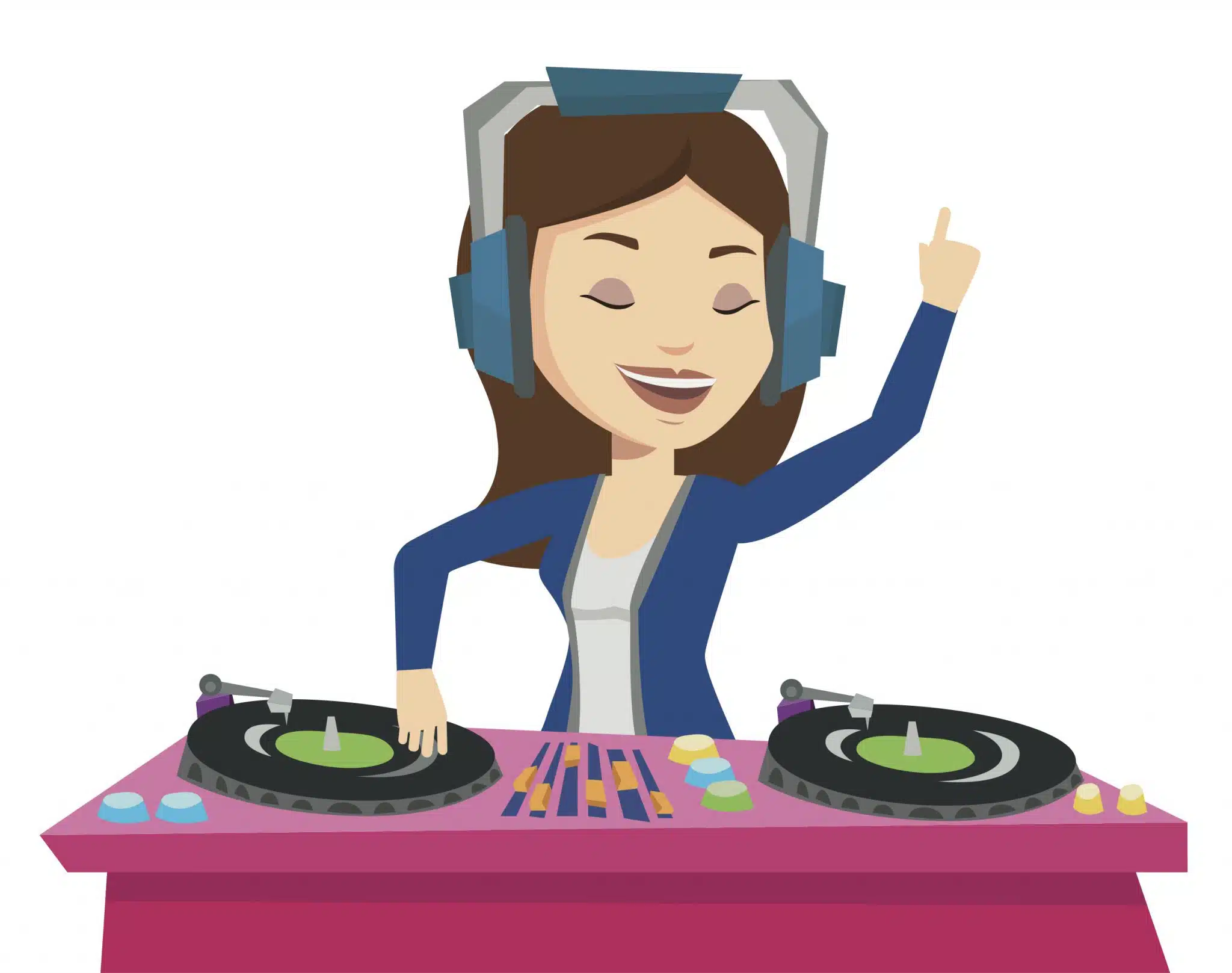 Duration
Another crucial aspect in determining the DJ's cost is the time they'll be needed at your event. Typically, DJs expect to be on-site for 3 to 6 hours, especially for weddings. However, additional time may be required for speeches or other specific events during the evening. By coordinating with your DJ and sharing your schedule, you can get an accurate quote for their services and avoid any surprises.
Peak Seasons
Certain dates, normally around the summer and Christmas might be in high demand, leading to increased prices. Booking your DJ well in advance for these popular dates can save you from unexpected price hikes.
Pro Tips
January, March, April, and November are considered "off-peak" months for weddings, offering potential cost savings. Remember, open communication with your DJ is key, ensuring they understand your vision and requirements for a wonderful and enjoyable event, no matter the occasion! 
We hope this information has been helpful. Find an experienced, skilled DJ who can host your event and share your most important moments, like cake cutting and the first dance. Call Carl at London DJ Stockholm for a chat on för konsultation på 0760410341
Professional DJ in Stockholm
Meet DJ Carl, also known as London DJ, a Master of Beats and a Maestro of Events! With a passion for music that knows no bounds, DJ Carl has built a reputation as a dynamic and skilled professional DJ. With years of experience orchestrating both corporate and private events firsthand, DJ Carl brings a unique blend of creativity, rhythm, and precision to every occasion.
Having spun tracks in many places both domestically and abroad, and impressing audiences with an uncanny ability to gauge the atmosphere, DJ Carl is not just a DJ; he is also a curator of unforgettable experiences. From intimate private gatherings and weddings to high-energy corporate events, DJ Carl possesses the necessary talent to transform every occasion into a symphony of celebration.
But DJ Carl's expertise doesn't end at the turntables. With a wealth of knowledge in event organization and planning, he understands the intricate details that make each event shine.