27 Epic Outdoor Birthday Party Ideas you dont Want to Miss
Put away your winter coats and grab the sunscreen because it's time to celebrate!
Nothing beats the feeling of an outdoor party when the sun is shining, the breeze is blowing, and happy vibes fill the air. If you're looking to host an unforgettable birthday bash, we've got you covered. From glamping adventures to garden BBQs, we've compiled a list of the coolest ideas for outdoor birthday parties that will make you the best host ever.
So grab a drink, soak up the sun, and get ready to plan the ultimate party under the open sky!
Easy and Budget-Friendly Ideas for Outdoor Birthday Party With a little creativity and planning, you can create an unforgettable birthday celebration without breaking the bank. If you're looking for ways to save some money without compromising on the fun, read on!
Picnic Perfection
Relax in a picturesque spot with a laid-back birthday picnic filled with delicious snacks and refreshing drinks. Bring along cozy blankets and fun picnic accessories and let the good vibes flow with friends and family as you enjoy a relaxing day.
Playful Playground
How to get the party started? Get the fun going with a lively selection of lawn games! You'll quickly have the guests laughing and having a blast.
Kubb A traditional Swedish outdoor game that combines strategy and precision to knock down opponents' blocks and protect your king.
Boule - A laid-back and strategic ball game where players throw metal balls to get as close as possible to a target ball and win an exciting competition against their opponents.
Ringkastning A fun and challenging game where players toss rings and try to hit various targets to score points and show off their accuracy.
Cornhole - A fun tossing game where players try to throw small beanbags into holes on a slanted game board to score points.
Frisbeegolf – An exciting outdoor sport where players throw frisbees toward goals, trying to hit them with as few throws as possible.
Brännboll – A fast-paced and action-packed ball game where players try to kick the ball and run around bases to score points while the opposing team tries to catch the ball and tag runners to stop them from scoring.
Tetherball – A fun outdoor game where players hit a ball attached to a vertical pole and try to spin it around the pole to win.
Utomhusdart – An exciting game where players throw darts at an outdoor target to hit different point zones and challenge each other in precision and skill.
Croquet – A classic and elegant garden game where players use mallets to hit balls through hoops and complete a course with precision and strategy.
Giant Jenga – A fun and thrilling game where players build a large tower of wooden blocks and carefully pull out blocks one by one without toppling the tower.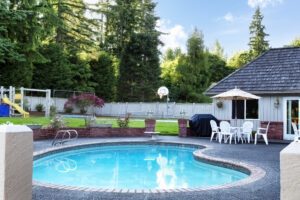 Outdoor Party
Treat your guests to an outdoor party under the open sky, with a beautiful table setting and sparkling string lights. Enjoy delicious seasonal dishes served family-style, along with refreshing drinks and lively conversations. This charming outdoor dinner will make everyone smile and create memories as they celebrate the special day together.
Hiring a Pro DJ for a Birthday Bash: Let the Good Times Roll!
Brace yourselves for an epic outdoor birthday party like no other! Bringing in a professional DJ adds a whole new level of excitement to the event. With their expertise in creating a festive atmosphere, they'll set the mood and ensure everyone has a fantastic time. Their extensive music repertoire can cater to every guest's taste, making sure no one feels left out. Plus, their top-notch sound and lighting equipment will elevate the party experience to the next level. So, hosts can relax and enjoy the celebration, knowing that the music is in capable hands. It's the perfect recipe for an unforgettable birthday filled with joy and dancing. Read more about DJ Carl"London-DJ""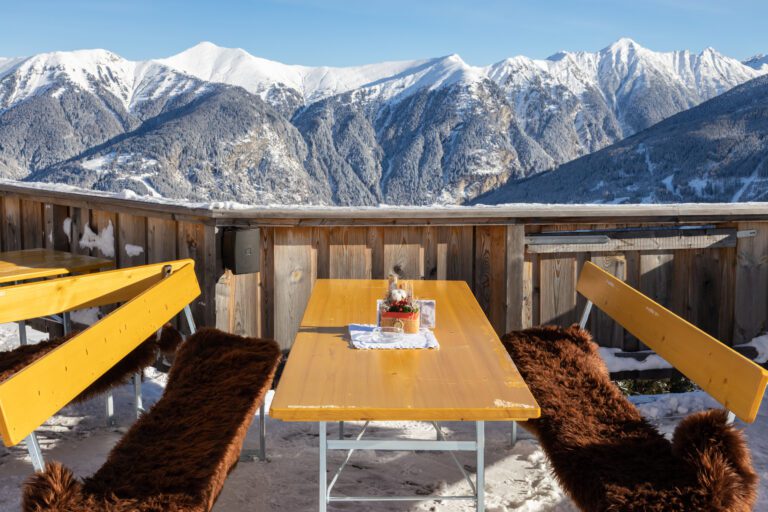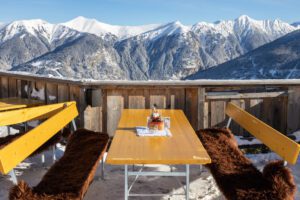 Outdoor Feast
Picture this: a delightful outdoor celebration under the open sky with twinkling fairy lights and a stunning table setting. Indulge in delicious seasonal dishes served family-style, along with refreshing drinks and lively conversations. This charming outdoor dining experience will leave everyone smiling and create cherished memories as they celebrate together.
Fire up the Grill
Great food, good company, and a laid-back vibe – that's the recipe for the ultimate birthday fiesta! Host a relaxed BBQ party where guests can savor mouthwatering burgers, sausages, and grilled veggies. Set up a casual buffet with all the fixings, and don't forget classic side dishes like potato salad and coleslaw.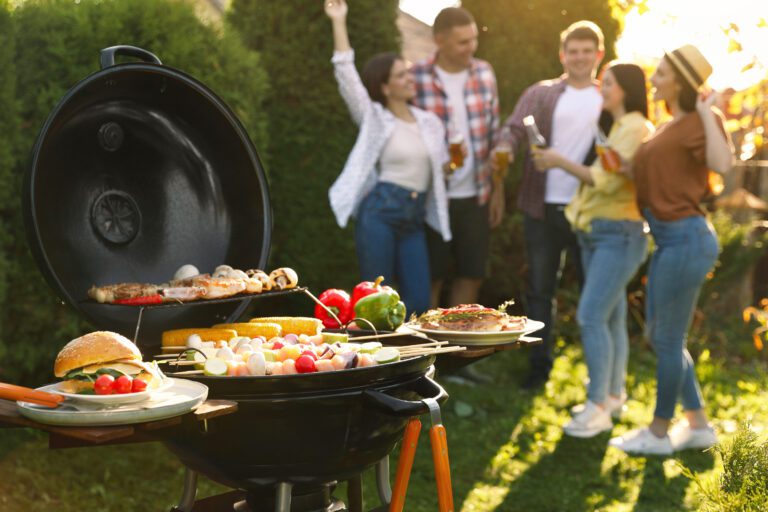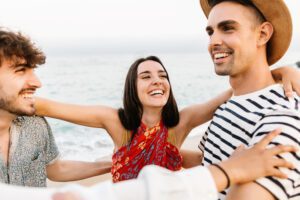 Head to the sandy shores for a sunny beach birthday bash where guests can lounge on beach blankets, splash in the waves, and soak up the sun. Fill your beach cooler with refreshing drinks and snacks like sandwiches and fruits. With a mix of sandcastle building, beach volleyball, and impromptu dancing, everyone will revel in this carefree birthday extravaganza!!
💡 Don't have a beach nearby? Just use your imagination! Host a beach-themed party in your own backyard or rent a venue with beachy vibes!
Backyard Bliss
Transform your backyard into the ultimate birthday haven with cozy seating, colorful decorations, and a playlist filled with party anthems. Serve easy-to-grab snacks and refreshing drinks as guests mingle, laugh, and create cherished memories.
💡 Bonus: Varje bra party inkluderar mat, så här är en lista med enkla matalternativ som du kan fixa på nolltid!
Grilled burgers or sausages with fixings like cheese, lettuce, tomatoes, and sauces

BBQ chicken or ribs with corn on the cob and coleslaw

Build-your-own taco or burrito buffet with various toppings like beans, rice, cheese, lettuce, salsa, and sour cream

Pizza, either homemade or from a local pizzeria, with an array of toppings to choose from

Pasta salad with veggies and dressing, along with garlic bread on the side

Charcuterie platters with different meats, cheeses, and toppings, served with chips and dip

Grilled skewers with chicken or beef, veggies, and rice

Fish or shrimp tacos with avocado, salsa, and lime wedges

Homemade chili with cornbread or baked potatoes

Grilled vegetables like zucchini, peppers, and onions, served with rice or quinoa on the side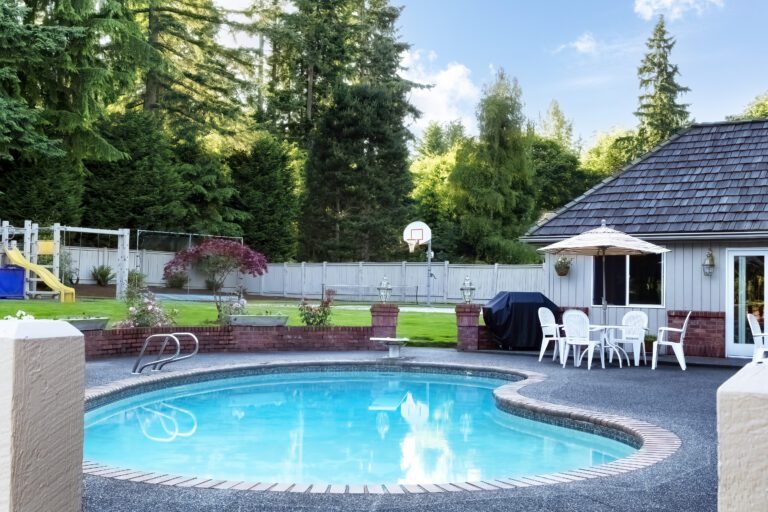 Enchanted Garden Party
Put on your garden glamour and transform your guests into a magical secret garden party. Decorate the space with twinkling fairy lights, lush greenery, and fragrant flowers to create an enchanting atmosphere. Enjoy delicious finger foods and refreshing cocktails as laughter and conversations flow. trädgårdsfest. Dekorera rummet med gnistrande ljusslingor, frodig grönska och doftande blommor för att skapa en förtrollande atmosfär. Njut av läckra fingerfoods och uppfriskande cocktails medan skratt och samtal flödar.
Sports Day
Bli aktiv och ha riktigt kul med en utomhusfödelsedagsfest med tema sportdag! Ordna mini-OS med olika sportevenemang som stafettlopp, fotboll och dragkamp. Dela upp gästerna i lag och låt den vänskapliga tävlingen börja. Med högintensiva spel och massor av skratt kommer denna actionfyllda party att bli en succé.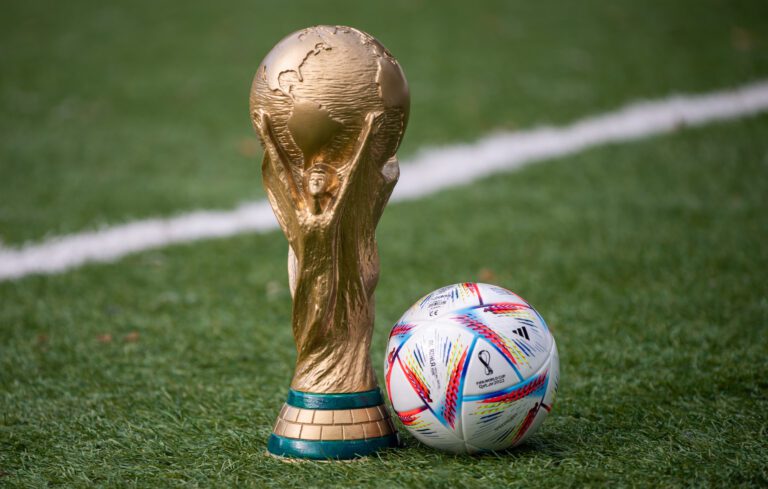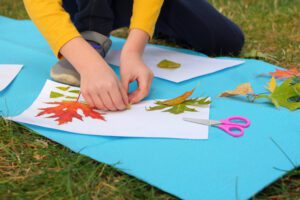 Art in the Park
Include a creative activity in the birthday celebration! Set up easels and art supplies for a creative painting or crafting session in a scenic outdoor setting. Encourage guests to let their inner artists flourish and draw inspiration from the park's surrounding beauty. Later, you can discuss and admire each other's masterpieces over some delightful party refreshments.
Thrilling Treasure Hunt
Add a sense of adventure to the birthday celebration with an exciting treasure hunt! Create clever clues and hide them around a park or in your backyard to lead guests on a quest for the hidden treasure. With teamwork, laughter, and excitement at every turn, this engaging activity will captivate guests and make the birthday party an unforgettable experience.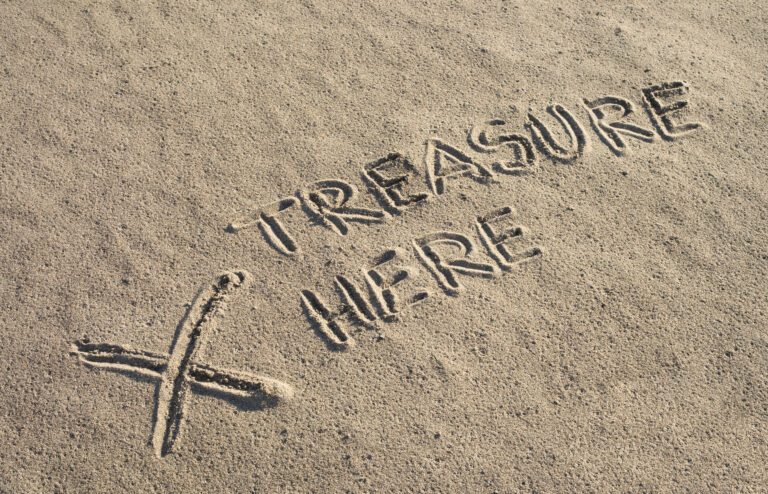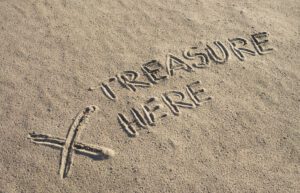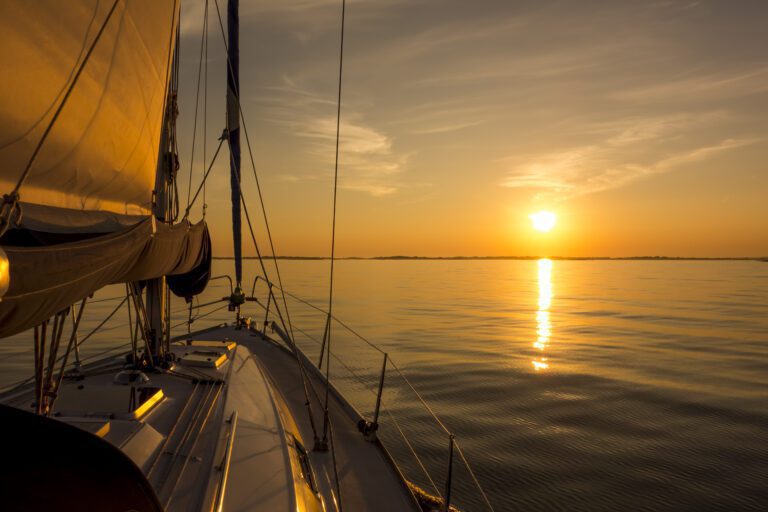 Set Sail for Celebration
Embark on a glamorous boat birthday party and celebrate in style as you cruise on the water. Rent a luxury yacht or party boat adorned with elegant decor, delectable catering, and a dance floor. Enjoy the stunning views, indulge in delicious food and drinks, and let the gentle waves create a captivating ambiance for the birthday bash in a luxurious fashion.
Grape Expectations
Why not take a trip to a local vineyard? Gather your friends and family for a delightful birthday celebration amidst lush vineyards and picturesque landscapes. Enjoy a laid-back wine tasting where you savor the vineyard's finest wines, appreciating their rich flavors and aromas. Wrap up the celebration with a picnic or gourmet meal in the idyllic setting.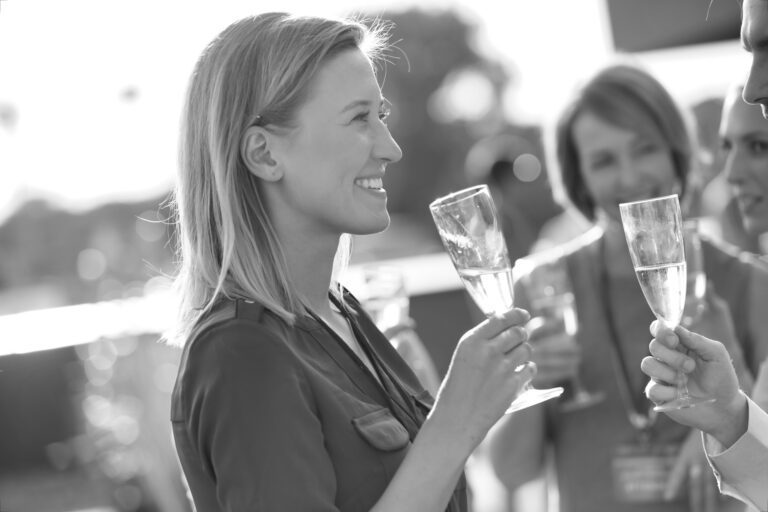 Above It All
Take the party to new heights with a rooftop terrace birthday bash! Enjoy breathtaking views and an urban atmosphere. Add a touch of glamour with stylish decor, delectable food and drinks, and a lively playlist, making this rooftop party a fantastic, Instagram-worthy festivity.
Make a Splash
Dive right into a fun pool party to celebrate the special day under the sun! Decorate the pool area with colorful inflatables and tropical decorations. Encourage guests to splash around, bask in the sun, or simply relax by the poolside, sipping refreshing cocktails and enjoying tasty snacks. Complete the celebration with a lively playlist. spellista.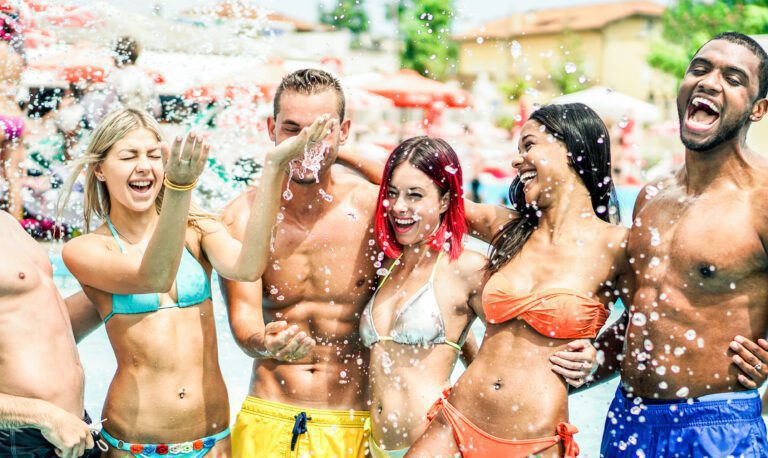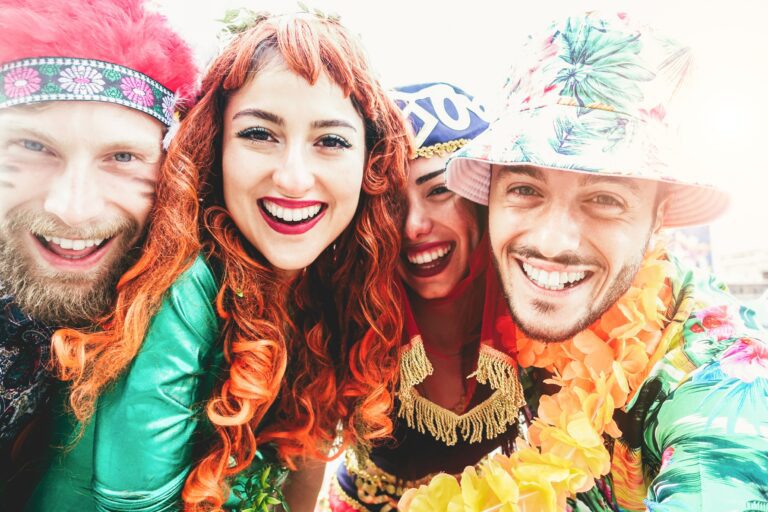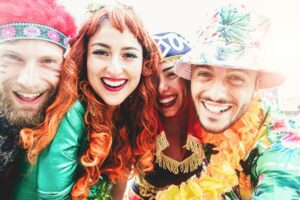 Carnival Party
Kom och skapa ditt alldeles egna DIY-karnevalskalas! Skapa en festlig värld med färgglada dekorationer, glittrande ljus och färgstarka banderoller. Ställ upp klassiska karnevalsspel som ringkastning, ballongkastning eller säckkastning och erbjuda roliga priser till vinnarna. Servera populära karnevalsgodisar som sockervadd, munkar, popcorn och varmkorv.
Movie Under the Stars
Transform your backyard or a local park into an outdoor cinema for an unforgettable movie night under the starry sky. Set up a projector and a screen and invite guests to bring blankets, chairs, and their coziest outfits. Offer freshly made popcorn, various drinks, and a selection of the birthday person's favorite films of all time.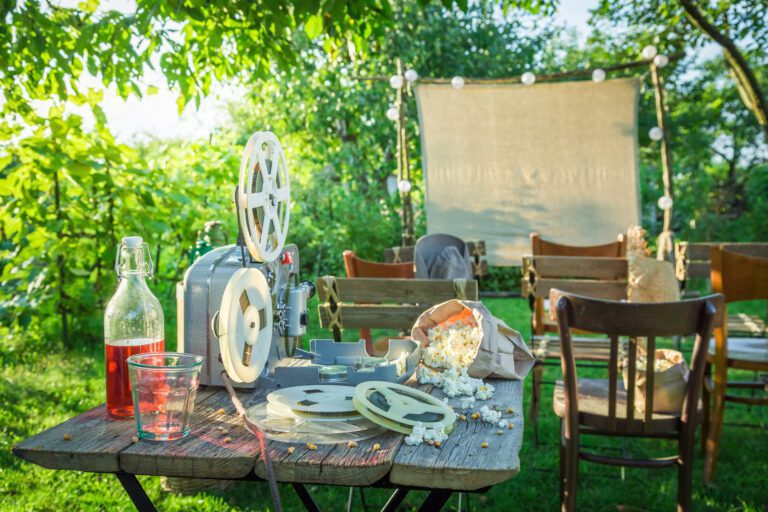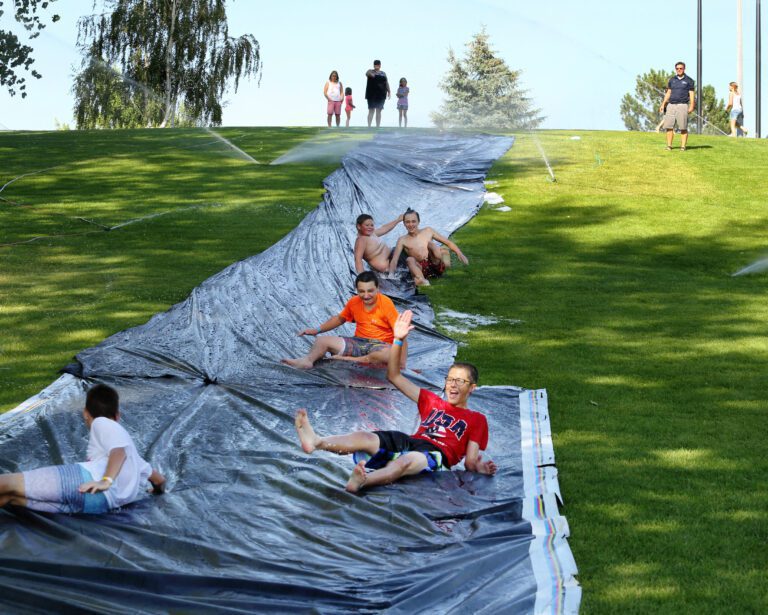 Splash into Fun
How about an adventurous birthday party at a water park? Spend the day sliding down tall water slides, floating along calm rivers, and having fun in the sun. Enjoy a refreshing break from the heat with icy treats like ice cream, popsicles, or frozen lemonade.
💡 Tip: Many water parks offer special birthday packages that include reserved cabanas, food, and drinks. Alternatively, you can rent inflatable water slides, a Slip'N'Slide, and water guns and enjoy a fun day in your own backyard.
Get in the Festival Mood
Get ready to rock out with a festival-themed birthday bash filled with music, food, and fun! Create a vibrant atmosphere with colorful decorations, sparkling lights, and bohemian-inspired elements. Set up craft beer stations and offer a variety of dishes like street food tacos, fried chicken with waffles, corn fritters, and nachos with cheese and toppings. Add a touch of playfulness with fun festival activities like face painting and henna tattoos.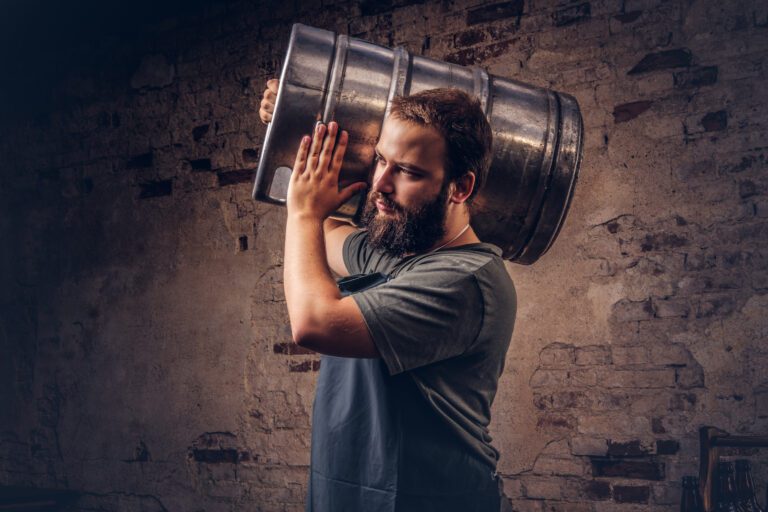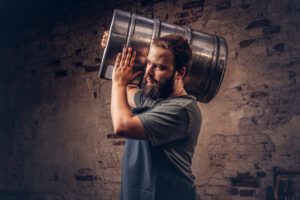 Food Truck Fiesta
Spice up your birthday celebrations with a delicious food truck fiesta! Bring in various food trucks offering different cuisines and specialties, from tacos and BBQ to ice cream and waffles. Create seating areas with colorful decorations, picnic blankets, and cozy lighting to create a fun and relaxed atmosphere.
Lights, Camera, Party!
Capture the moment by celebrating the birthday with a creative outdoor photoshoot. Choose a scenic location like a park, beach, or garden, and hire a professional photographer to take some memorable shots (or do it yourself!). Have fun with props like balloons, signs, and hats, and vary outfits and poses to create variety.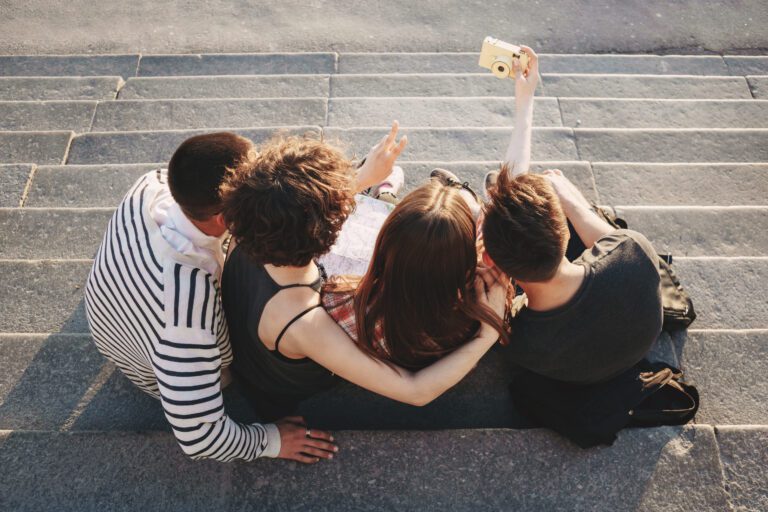 Outdoor Adventure Ideas for the Adventurous Type
Calling all nature lovers and adventure enthusiasts! If you want to celebrate a birthday surrounded by the beauty of the great outdoors, look no further. From immersive nature experiences to adrenaline-filled activities, we've put together a list of ideas that embrace the wild call.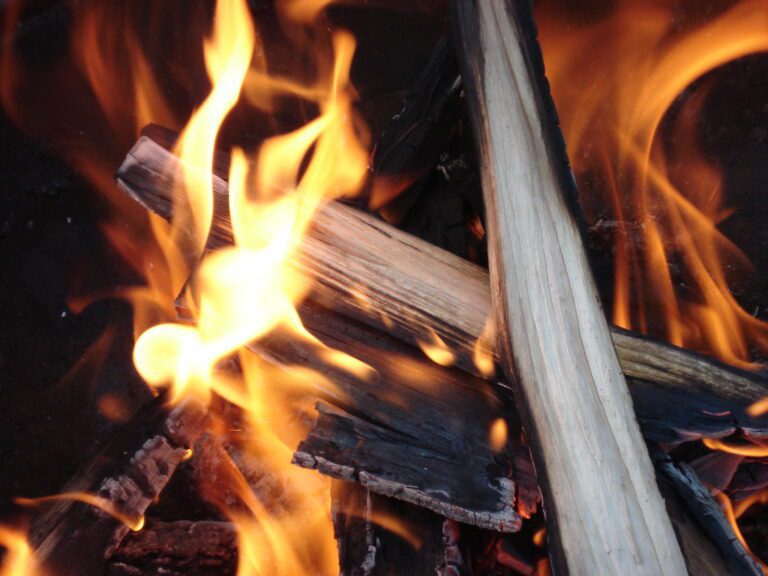 Light Up the Party
More fun, please! Make the evening glow with a cozy birthday party around a crackling bonfire. Build a fire pit, bring blankets and cushions, and gather with guests to roast marshmallows or make s'mores, tell stories, and enjoy the warmth of the flames. Sip on warm drinks like cider or hot chocolate and treat yourselves to sweet treats.
Embark on an Adventure
For a refreshing and adventurous birthday, choose a scenic hiking trail and explore the beauty of nature. Pack a picnic lunch with delicious treats and refreshing drinks to enjoy at a picturesque spot along the way. Offer challenges or games, such as treasure hunts or nature photography competitions, to give the hike a fun twist.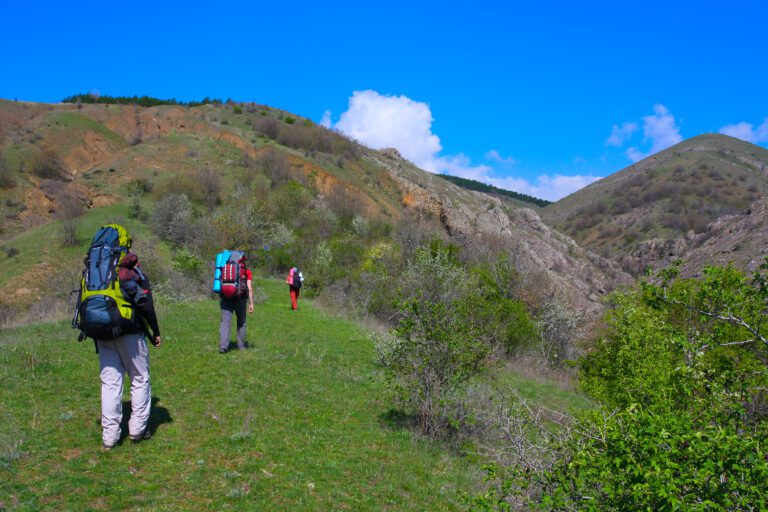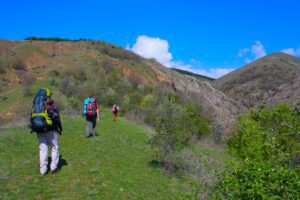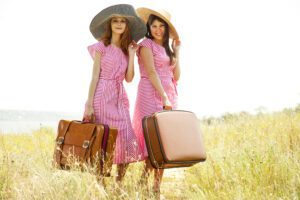 Up in the Air
For the ultimate adrenaline-pumping birthday celebration, look no further than up in the air! Experience breathtaking views with a hot air balloon ride, helicopter tour, skydiving, treetop adventures, or bungee jumping. Soar high above the ground and capture fantastic pictures and memories.
Pitch a Tent
Return to nature and celebrate the birthday with a camping adventure. Choose a scenic camping spot to pitch tents, plan outdoor activities like hiking, fishing, and stargazing, and offer delicious meals cooked over the campfire, like hot dogs, s'mores, and campfire popcorn. Enjoy the peaceful sounds of nature, the camaraderie of friends, and the warmth of the fire.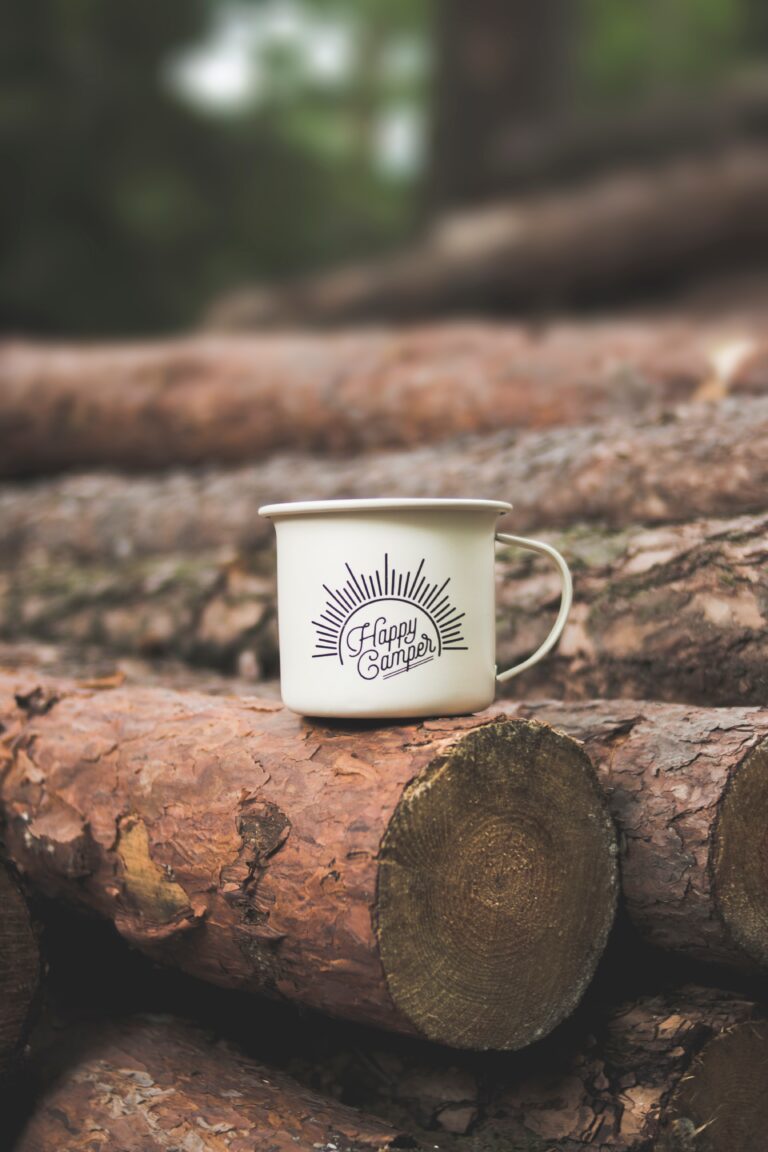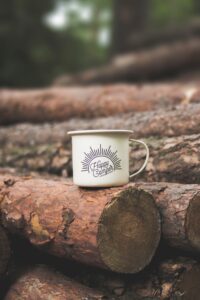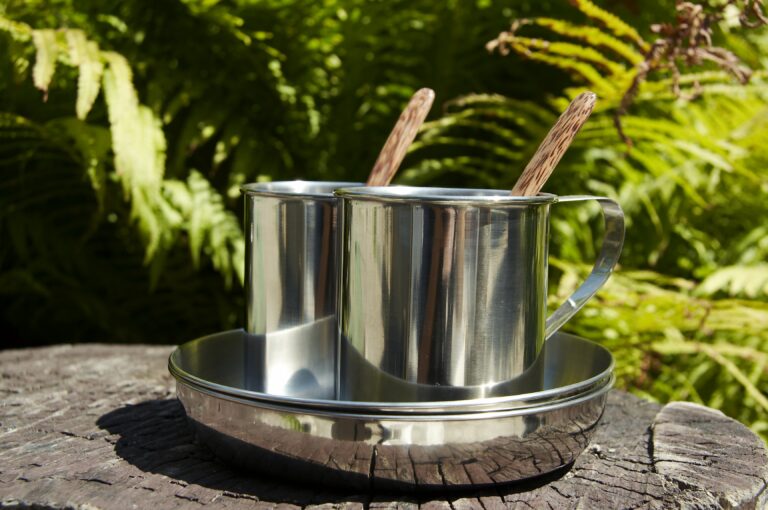 Glamp It Up
Take camping to the next level with a luxurious glamping birthday. Enjoy nature's beauty in style with comfortable beds, elegant furniture, and modern amenities like running water and electricity. Relax in a cozy atmosphere with comfortable seating, twinkling lights, and a warm fire.
Hassle-Free Outdoor Gathering: Top Tips for a Stress-Free Celebration
With a little preparation and some expert advice, you can ensure your birthday party goes smoothly from start to finish. Follow our top tips for a worry-free outdoor gathering that covers everything from weather protection to guest comfort.
✅ Plan Ahead: Create a checklist of everything you'll need for the party, from decorations and food to seating and activities.
✅ Consider the Weather: Keep an eye on the weather forecast and plan accordingly. Have a backup plan in case of bad weather.
✅ Set Up in Advance: Give yourself plenty of time to prepare before guests arrive. This will help you avoid last-minute stress and ensure everything is in place.
✅ Keep It Simple: Don't overcomplicate things. Keep the menu, decorations, and activities simple and easy to manage.
✅ Delegate Tasks: Don't try to do everything yourself. Ask friends and family for help with tasks like cooking, decorations, and cleaning.
✅ Provide Shade: Ensure there's plenty of shade where guests can protect themselves from the sun, especially during the most intense hours between 12:00 PM and 3:00 PM.
✅ Keep Guests Comfortable: Provide comfortable seating, plenty of water, and access to indoor facilities like bathrooms.
✅ Have a Backup Power Source: If you're using electronics like speakers or lights, have a backup power source like a generator, power banks, or extra batteries.
✅ Enjoy the Moment: Don't stress too much over the details. Take a deep breath, relax, and enjoy the party with your guests!
Party Essentials: 10 Must-Haves
You Can't Forget To plan the perfect outdoor birthday party, you need some essential items to ensure everyone has a great time. Here's a list of ten must-haves for the party that you absolutely can't forget!
Seating Spectacular: Make sure there are enough seats for all your guests. Consider offering a mix of chairs, benches, and blankets for a comfy and laid-back atmosphere.

Light Up the Night: Add some festive lighting to create a warm and inviting ambiance. Spotlights, lanterns, and fairy lights are all excellent choices.

Food and Drink Delight: Provide a variety of food and drinks to satisfy all taste buds. Think finger foods, grilled goodies, and refreshing beverages like lemonade or iced tea.

Entertainment Extravaganza: Keep your guests entertained with games, music, or other activities like a photo booth or craft stations.

Sunshield Superheroes: Protect your guests from the sun with umbrellas, sun hats, and sunscreen.

Bug-Free Bliss: Keep pesky insects at bay with citronella candles, insect repellent, or designated areas with insect nets.

Cleanup Champions: Have plenty of trash bags, paper towels, and cleaning supplies on hand to make cleanup a breeze.

Bathroom Break: Ensure easy access to bathrooms for your guests.

First Aid Fun: Keep a first aid kit handy for any minor mishaps or injuries.

Weather Warriors: Be prepared for rainy weather with tents, canopies, or umbrellas.
Part(y)ing Thoughts
Throwing an outdoor birthday party with a professional DJ is a fantastic way to celebrate the special day. Whether you choose a laid-back backyard BBQ or an epic glamping adventure, there are plenty of options for a fantastic celebration.
Just remember to plan ahead, keep it simple, and don't forget the essentials like seating, food, and entertainment.
With a little imagination and some handy tips, you can host a stress-free and absolutely amazing outdoor birthday bash that will be remembered and cherished for years to come. 🎉🎈🎂
Professional DJ in Stockholm
Meet DJ Carl, also known as London DJ, a Master of Beats and a Maestro of Events! With a passion for music that knows no bounds, DJ Carl has built a reputation as a dynamic and skilled professional DJ. With years of experience orchestrating both corporate and private events firsthand, DJ Carl brings a unique blend of creativity, rhythm, and precision to every occasion.
Having spun tracks in many places both domestically and abroad, and impressing audiences with an uncanny ability to gauge the atmosphere, DJ Carl is not just a DJ; he is also a curator of unforgettable experiences. From intimate private gatherings and weddings to high-energy corporate events, DJ Carl possesses the necessary talent to transform every occasion into a symphony of celebration.
But DJ Carl's expertise doesn't end at the turntables. With a wealth of knowledge in event organization and planning, he understands the intricate details that make each event shine.