Your 30th birthday is a milestone deserving of a grand celebration.
If you're still looking for the perfect party theme and tips for a 30th birthday party, I've selected some ideas that work well for a gathering of family and friends. As a professional DJ, I love playing at 30th birthday parties. 
The atmosphere is fantastic, and everyone is ready to party! 
30th Birthday Party Tips
Great Gatsby-party
Why? Everyone knows what this theme entails, making it easy to say "yes" to an invitation.
Guests dress in their finest attire inspired by the 1920s, and your decorations should reflect the opulence and extravagance of The Great Gatsby.It doesn't have to cost a fortune; start early and hunt for decorations online.
As for music, there are some excellent playlists available, including this one: "Great Gatsby Party" on Spotify..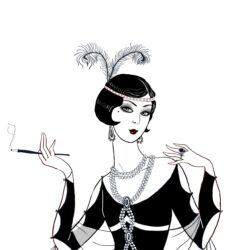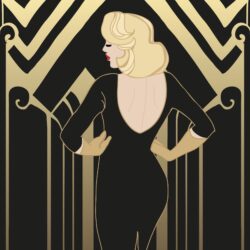 Venue and Guest List Selection
"The Great Gatsby" is a popular novel by F. Scott Fitzgerald. It revolves around a decadent lifestyle in the 1920s, featuring flapper dresses, champagne towers, and a glamorous setting.
If you have a larger budget, consider hosting your Great Gatsby party at an elegant venue and hiring a DJ. You can rent 1920s-themed decorations to adorn the party location and serve food inspired by the Gatsby era to your guests.
Hosting a party at home is always nice, and why not go for the Gatsby theme? You can have the party indoors if you're planning for a smaller number of guests. Depending on your type of residence and the weather, you can decorate both indoors and in the garden/on the balcony.
There's an endless array of decorations available for ordering online, so let yourself be inspired.
Suggestions for decorations and music:

Set up feathers, pearls, and fringes.

Use gold and sparkling decorations.

Dress up in 1920s attire.

Create a custom playlist for The Great Gatsby.

Hire a DJ or a band.

Have a casino table.

Serve bubbly (preferably in a champagne tower) and cocktails.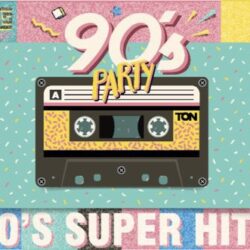 90s Themed 30th Birthday Party Tips

30-års fest tips
What better theme for a 30th birthday party than the 90s? Most people turning 30 (and reading this) will have fond memories of that decade, from the music to the TV shows and fashion trends.
Decorate the party venue with memories from the 90s, perhaps posters of pop bands you liked? Also, ask guests to dress in 90s style, it always brings out laughs.
You can plan trivia games around important events, or a music quiz with 90s tunes, which is always a hit. If you have the budget, consider hiring a DJ to play a mix of hits from this cool decade.
Throwing a Surprise Party – 30th Birthday Party Tips
Nothing can make a person happier than receiving a surprise party.
Detta är något som alltid får fram ett leende på läpparna hos födelsedagsbarnet. Utgå från dennes intressen och smak så att det blir en party som hen kan identifiera sig med och verkligen njuta av.
Plan all party arrangements well in advance, and make a list of everything that needs to be booked so nothing is forgotten. A tip: make sure guests arrive well before the birthday person so they can be in place 15 minutes earlier than you originally planned.
Ultimately, it's not the theme or form of the party that's important, but in the end, what makes a 30th birthday celebration special is marking the transition from the 20s and welcoming the 30s with open arms.
It should be a perfect blend of nostalgia from the past and aspirations for the future. The above ideas offer a perfect mix of both and are therefore some of the best ideas for celebrating a 30th birthday.
I've DJ'd at many 30th birthday parties and have seen it all, from old photos on the walls to hiring a cocktail bartender to serve drinks in the comfort of one's own home.
Renting a Venue for Your 30th Birthday Party
Why not start with a blank canvas and host the type of party you want with your own choice of decorations, food, your best friends, and a cool DJ?
You will need to organize, decorate, and possibly clean up afterward, but with determination and some loving care, it will be the best choice. Choose a theme and write it in big letters on the invitations, and send them via mail or email to the guests well in advance.
This will give everyone enough time to prepare. A trip to the liquor store and a few well-chilled coolers will suffice if you're on a smaller budget. For entertainment, you can hire a DJ to keep the party going all night. 
A DJ is flexible and will play music for a broad audience – but if you have a specific list of songs, provide it to the DJ well in advance.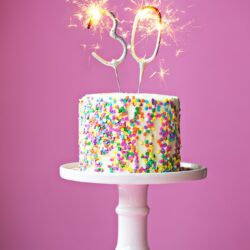 If the DJ is booked to start later in the evening: Inquire about the possibility of setting up the sound system early and ask if you can connect a mobile device to their audio system to play a pre-loaded Spotify playlist.
If your party starts with drinks and food at 7:00 PM, the DJ's start time should be around 9:00 PM/10:00 PM, and they should play for at least 4 hours.
Quick Games to Play (some involve alcohol) - 30th Birthday Party Tips
Beer Pong
You will need:
A table (preferably 3 meters)

20 paper or plastic cups

Ping pong balls

2 teams
How to Compete:
Divide the group into 2 teams. Team 1 and Team 2 will take turns throwing the ball each time it's their turn.
Fill 20 plastic cups halfway with beer. If you want to avoid drinking too much, consider filling them to ¼ with beer. You can vary the amount of beer per cup so that each side has an equal amount in each cup. You can also use wine, cider, or stronger drinks if preferred.
Arrange the plastic cups in a triangle of 10 cups at each end of the table. The tip of each triangle should be facing the opposing team. There will be one cup in the first row, two in the second row, three in the third row, and the base of the triangle will have four cups (similar to how you set up balls on a billiards table).
You can also choose to play with 6 cups. The more cups, the longer the competition will be.

The more cups, the longer the competition will be.
Determine which team will start. Decide this by flipping a coin or playing "rock-paper-scissors". The winning team starts.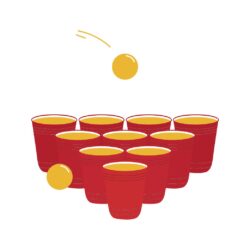 Släng omväxlande bollar i muggarna 30-års fest tips
Each team takes turns throwing a ball. The goal is to throw the ball into a cup on the opposing team's side. You can either throw the ball directly into a cup or first bounce it on the table.
Try to arc the ball when you throw it. This makes it more likely to land in a cup.

Aim for a cluster of cups rather than the edges of the triangle.

Experiment with both underhand and overhand throws to see which works best for you.

Find the distance and try to make your throws consistent. You'll get the hang of it!
Drink according to where the ball lands.When the ball lands in a cup, you and your teammates should drink the beer between you – if you drink the first cup, a teammate drinks the next, and so on. Remove the cup from play once it's been emptied.
Keep the remaining cups in their original positions throughout the game. Alternatively, to make the competition easier/quicker to finish, move the last 3 cups into a triangle.
Continue playing until one team has no cups left. The team with no cups remaining loses, and the other team wins. andra laget har vunnit.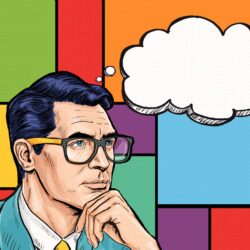 Keeping a Straight Face - 30th Birthday Party Tip
All players write sentences on small pieces of paper.
The sentences should be funny or inappropriate; ones that others would find challenging to read (or hear) while keeping a straight face.
Each player takes turns choosing a piece of paper and tries to read what is written on it without giggling or smiling. If someone fails, they must take a drink.
Music Quiz (30th Birthday Party Tip)
If you don't have a specific theme to tailor the music questions to, try mixing old and new songs when planning a music quiz. There are also many free apps available for easy download on your phone if you don't have the time or inclination to think too much about it.
Depending on how wild you want the party to be, you can also incorporate some drinks for the losing or winning team. Create a Spotify playlist if you prefer not to use an app for the music quiz.
Here's my favorite way to do a music quiz:
Divide the group into teams, pairs, or individuals, and then give them paper and pen.
Play each song for about 20 seconds. The participants should guess the Artist and Song Title for 2 points. You can give bonus points for additional information such as:
The year the song was released
(For bands) the names of all the band members.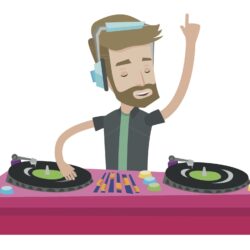 30th Birthday Party at Home: From Small to Big Budget
Like with anything else, you can spend as much as you want – even if the party is in your living room. Whatever you spend, the best place for a perfect party is to have your friends in the comfort of your home.
If you don't have the means to fully cater to your guests, make sure they bring their own alcohol and perhaps some snacks. There are plenty of ideas online. Home parties always impress me, both as a guest and when I'm DJing.
The party can start and end whenever you want. Just make sure to warn the neighbors in advance so there are no complaints about loud music.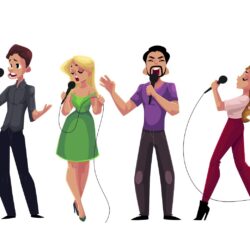 Karaoke – 30th Birthday Party Tip
Why? It's easy and affordable. Anyone can participate, and everyone can sing (or at least think they can).
Everyone loves karaoke. It's an activity that gets the party going and breaks the ice among guests.
And what's better than singing that powerful ballad with your best friend?
At Home or at a Karaoke Venue?
There's no need to spend money for a successful evening! Your home's comfort is usually very suitable for hosting karaoke. All you need are some microphones and a karaoke machine, a good home stereo, and you're ready to sing.
You have the equipment, but the guests make the party, so make sure to leave enough space for an enthusiastic audience.
Why not buy or rent some inexpensive disco lights to create a club-like atmosphere if you have an extra budget? There are some DJs who include karaoke as part of their service (recommended for a larger budget).
If you want to know more, need some tips/advice, or want information about my DJ service, , please use the contact form. kontaktformuläret.
Professional DJ in Stockholm
Meet DJ Carl, also known as London DJ, a Master of Beats and a Maestro of Events! With a passion for music that knows no bounds, DJ Carl has built a reputation as a dynamic and skilled professional DJ. With years of experience orchestrating both corporate and private events firsthand, DJ Carl brings a unique blend of creativity, rhythm, and precision to every occasion.
Having spun tracks in many places both domestically and abroad, and impressing audiences with an uncanny ability to gauge the atmosphere, DJ Carl is not just a DJ; he is also a curator of unforgettable experiences. From intimate private gatherings and weddings to high-energy corporate events, DJ Carl possesses the necessary talent to transform every occasion into a symphony of celebration.
But DJ Carl's expertise doesn't end at the turntables. With a wealth of knowledge in event organization and planning, he understands the intricate details that make each event shine.